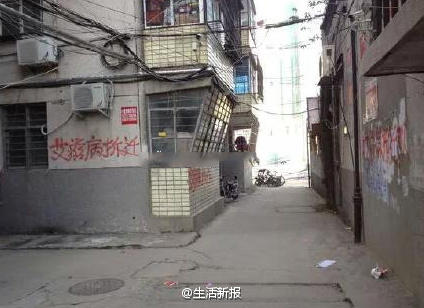 Red graffiti reading "AIDS demolition team" on the walls of buildings in a residential community in Nanyang of Central China's Henan province. [Photo/shenghuoxinbao] 
In Nanyang of Central China's Henan province, a handful of 'AIDS patients' were reportedly employed to threaten residents to move out of their homes to make way for a real estate development project, reported the Beijing News on Wednesday.
Striking red graffiti reading "demolition team of AIDS patients" were first spotted on walls, bulletin boards or buildings in the residential community in Wolong District of the city ten days ago. The threatening messages have haunted residents living in the neighborhood since then.
A resident told the reporter that she had stopped taking her kid to the community since the appearance of the threatening messages, which were left by some self-proclaimed 'AIDS patients' according to residents and video footage.
The six have been seen strolling around the community, threatening to spread HIV to residents, and setting off firecrackers to disturb them at night.
The residential community sits on a prime location in Nanyang with reputable schools nearby, which is one of reported reasons the residents refused to leave their houses.
A resident surnamed Liu said that if the residents of the community want to send their children to these schools, a property ownership certificate of a house in the area is required, and if a new building replaces the old one, such a certificate would not be offered by the developer.
Liu added that since 2012, the harassment of the residents began when water, electricity and gas supply to the community was cut off until the victims brought a lawsuit against the suppliers,
In response to the incident, Nanyang government denied that it is behind the "AIDS demolition team". It said that an investigation of the allegation is underway. Besides, the company in charge of the demolition of the community has been ordered to suspend the project and cooperate with the investigation.
It is not yet known whether the team really included AIDS patients or just used the disease as a threat. The province of Henan was once known for its large population of HIV carriers, many of whom were villagers infected through illegal blood sales.
Demolition has been put under the spotlight in China for years because of the huge profits involved and the sometimes violent process.
The issue of demolitions was highlighted by the case of Tang Fuzhen, a resident of Chengdu, capital of Southwest China's Sichuan province. The 47-year-old died in 2009 after setting herself on fire to protest the forced demolition of her former husband's garment processing unit.
Governments have made efforts to reduce the number of violent demolitions. In 2011, a new law was enacted to make it illegal for developers or governments to cut off water or power supplies during the relocation process.