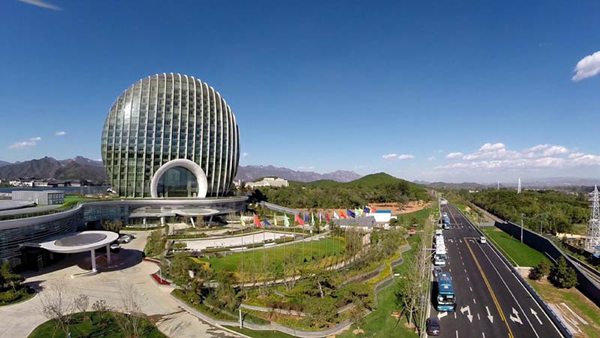 Aerial photo taken on Nov 3, 2014 shows the fresh air of the Yanqi Lake in the Huairou District of Beijing, capital of China. [Photo/Xinhua]
The Beijing Municipal Environmental Protection Bureau has released its top key words for 2014, with the first three being "APEC blue," "Effort and luck," and "Fight pollution with an iron hand."
"APEC Blue" is a term coined for the clear blue skies during the APEC meetings in Beijing. Supported by neighboring provinces and cities, the capital city took a series of measures to reduce smog, including limiting the number of cars on roads, granting leave to people working for some institutions, and suspending production in factories.
Du Shaozhong, spokesman for the bureau, said Beijing will continue to strictly implement its Five-Year Clean Air Action Plan (2013-2017) to fight the severe air pollution.
The action plan includes restricting the capital's annual coal consumption, controlling the number of vehicles, and promoting new energy.
"Effort and luck", on one hand, implies the hard work involved in the fight against air pollution and, on the other hand, suggests that clear skies that occur in Beijing are partly the result of strong winds that blow pollution out.
Previous reports said that Beijing plans to build six wind corridors to allow air from the suburbs to blow through the urban center and remove air pollutants.
The other key words are:
No. 4. Analysis of PM2.5 sources
No. 5. Say goodbye to "yellow label cars" (heavy-polluting vehicles)
No. 6. No coal
No. 7. Elimination and industrial upgrading
No. 8. Authoritative weather information release
No. 9. Coordinated and joint efforts (Beijing, Tianjin and Hebei province have cooperated closely in the anti-pollution campaign)
No. 10. "Fresh" Spring Festival (Beijing called on residents to set off fewer or no fireworks during the lunar New Year.)