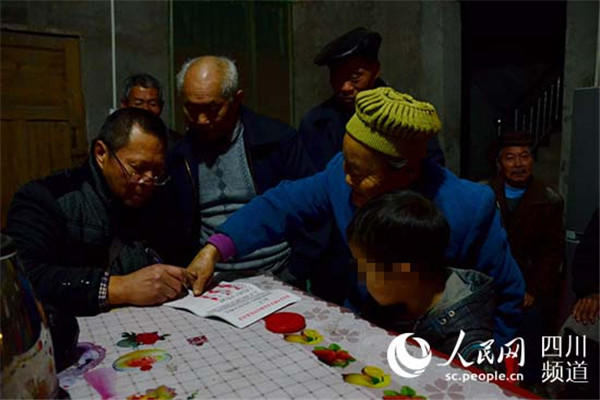 A woman puts her fingerprints on the petition letter with Kunkun standing beside her. [Photo/sc.people.cn] 
Petition signed by more than 200 villagers in Sichuan province about a child with HIV is intended for the boy to be taken better care of, the Beijing News reported Saturday.
Eight-year-old Kunkun contracted the virus from his mother and was diagnosed with the disease in 2011. In early December, more than 200 villagers, including Kunkun's guardian and grandfather, signed a petition to eject him from the village and be quarantined for treatment, according to earlier reports.
"I don't want to abandon my grandson, but I hope capable social organizations can take in him because my wife and I are both in bad health and unable to raise him," said Luo Wenhui, Kunkun's grandfather, on Friday.
The villagers also clarified that their petition wasn't meant to banish Kunkun from the village but was aimed at getting better treatment and education for him.
Two uncertified journalists were behind the draft of the petition and they also claimed that their intention was to "help find proper social organizations to take in Kunkun and fulfill the hope of Kunkun's grandfather".
Earlier reports of a petition demanding Kunkun to be banished from the village drew wide concern and stirred heated debate on the Internet with tens of thousands of comments posted on Sina Weibo supporting Kunkun.
"The virus won't be transmitted through day-to-day contact", said @ Alangliuliu, adding "if we can jointly sign somebody out the village today, we can sign to kill somebody tomorrow".
@Yangguangkeren4430 said the society should not be focused on finger-pointing. "Let's just hope the government can come up with a satisfying arrangement for the boy and let him grow up happily."
In response to Kunkun's treatment, the head of the township was quoted by the report as saying Kun Kun should enjoy equal rights.
The township authorities have sent a team to the village to spread knowledge of the disease and persuade local villagers not to discriminate against the boy. His grandfather heard that some people offered to take care of Kunkun on Wednesday, but the information remains unconfirmed.
"Stigma and discrimination are our biggest enemies in the fight to end HIV. Stigma and discrimination – in all forms and in any circumstances – are unacceptable, and they must stop. There is no reason to exclude someone with HIV – adult or child – from normal life," said a UN statement released by the World Health Organization's (WHO) China office.
"The United Nations in China calls on everyone to work to end discrimination against and stigmatization of people living with HIV by promoting correct knowledge on HIV and AIDS; quality HIV confidential counseling and testing, treatment, and family and community support," added the statement.
By the end of last year the number of HIV/AIDS patients in China had risen to 810,000 and the virus had claimed 136,000 lives.
The government, public health departments and social organizations have responded well and in time to the threat of the virus in China. In contrast, people's fear, resistance and discrimination against the disease and those infected with it have increased with the rise in the number of cases.