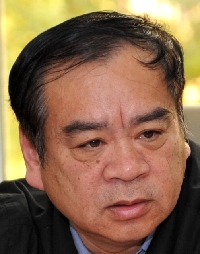 Wang Min, Party chief in Jinan, capital of Shandong province [Photo/China Daily]
 A Party chief suspected of corruption in Shandong province has been placed under investigation.
Wang Min, Party chief in Jinan, is the first official at the provincial level to be investigated in the province since the nationwide anti-graft campaign began in 2012. He is suspected of "serious violations of party discipline and laws", terms often used to signify corruption.
Wang, 58, a native of Shandong, is also one of the alternate members of the Central Committee of the Communist Party of China, the country's top political body.
He was performing his regular duties on Thursday morning-delivering an anti-corruption lecture to senior officials in Jinan warning them about misconduct-just before he was held for investigation. The announcement by the province's anti-graft watchdog came that afternoon.
Anti-graft authorities didn't provide details about the case.
Wang started his career as a government policy researcher in the provincial government and has spent nearly 40 years climbing the ladder of officialdom. He joined the provincial policymaking body at the age of 48 and became Party chief in December 2011.
He was the producer of a 2008 TV series, Journey to the Northeast, and was one of the lyricists for the award-winning program when he was the provincial chief of publicity.
A pricing scandal involving an affordable housing project for provincial officials in Jinan set tongues wagging in 2006, when Wang was secretary-general of the provincial government. The apartments were found to be 160 to 300 square meters in size-double or triple the prescribed size for affordable housing, and they were located in a prime area of the city. The average price for officials was one-third of the going rate at the time. The project was criticized for subsidizing officials with public money.
Wang's case has drawn wide publicity because he is one of only a few alternates to China's top political body who have been investigated for possible corruption.
The Central Committee has 205 full members and 171 alternate members. Members are elected once every five years by the National People's Congress.
Anti-graft authorities said 58 officials at or above provincial level have been investigated since the central leadership launched the sweeping anti-corruption campaign. Ten are from leading departments of the CPC, three are from the military, 41 are from various provinces or areas and four are from State-owned enterprises.