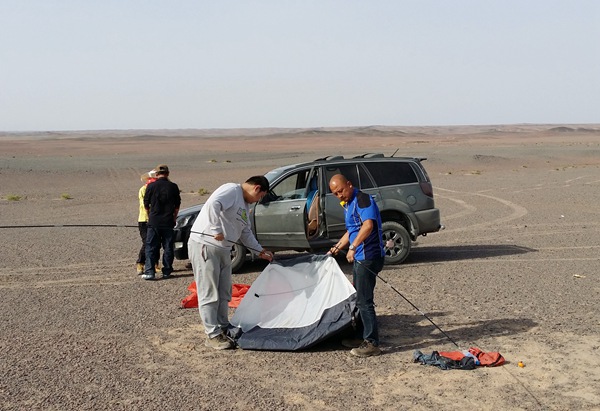 Meteorite "hunters" camp in Lop Nur, Xinjiang before they set out to hunt for meteorites on July 28, 2014. [Photo by Zhao Yuxian / for China Daily]
Fact file: visitors from outer space
· The Nandan County meteorite shower: The only iron meteorite shower recorded by scholars in ancient China
According to records compiled in the Ming Dynasty (1368-1644), the summer of 1516 saw strings of meteorites shaped like snakes and dragons, and accompanied by fierce lightning, crash to earth in what is now the Guangxi Zhuang autonomous region. The local farmers believed the meteorites scattered around their farmlands were iron ore and tried unsuccessfully to melt them. In 1964, scientists identified the stones as meteorites.
The Xinjiang meteorite: The largest iron meteorite in China and the third-largest in the world
The extraterrestrial giant, weighing 28 metric tons, was discovered in north Xinjiang's Altay prefecture in 1898. It was shipped to Urumqi, the capital of the Xinjiang Uygur autonomous region, in 1965.
At 3 pm on March 8 1976, a deafening roar announced a meteorite shower that fell on the suburbs of Jilin city and Yongji county in north China's Jilin province. The shower included the largest stone meteorite known to hit the Earth, and the 1,775-kg space rock is now on display at the Jilin City Museum.
The noise made by the meteorite shower was tremendous, and the seismic waves broke thousands of windows, leading many locals to believe the city had been hit by a nuclear bomb or a crashed plane. Despite the apocalyptic scene, no one was reported to have been injured in the episode.