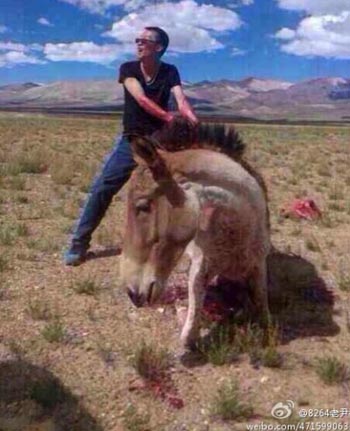 The photo posted on Aug 11 shows a laughing man with bloody hands standing behind a terrified kiang, a first class national protected animal. [Photo from weibo.com]
LHASA - Two men received jail sentences after being convicted of killing a Kiang, a highly endangered Tibetan wild donkey in Southwest China's Tibet autonomous region.
On Monday, the people's court in Zanda county sentenced Chen Haisheng to three years and six months in jail and his accomplice Li Ming one year in jail. Chen and Li were fined 80,000 yuan ($13,082) and 20,000 yuan respectively.
The two chased and hit the animal in a vehicle on Aug 9. After it collapsed, Chen killed it with a knife, disemboweled it and took the body to their workplace to cook for their co-workers. The two work for an electricity company from Northwest China's Shaanxi province.
Chen then shared a photo showing him posed with the body of the wild ass via messaging app WeChat. The picture ignited public outrage and the two were arrested two days later.
Tibet is home to scores of rare and endangered species, including black-necked cranes, Tibetan antelope, Tibetan wild ass, yaks and snow cocks.
Related news
Man detained for animal abuse photos