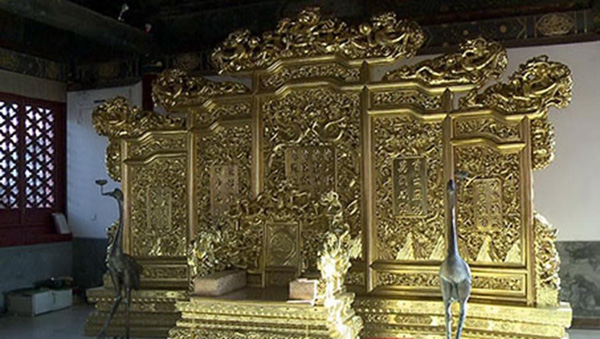 A chair carved with dragon at the private club in Songzhu Temple. [Photo/Xinhua]
Private clubs continue to operate in some historic buildings in Beijing despite the government ban, Xinhua reported Monday.
Streets away from the Palace Museum in downtown Beijing are Songzhu Temple and Zhizhu Temple, historic sites that no long hold religious services. But investigations reveal that the temples have been converted into high-end private clubs and restaurants.
The temples have been redecorated to mimic some buildings in the Palace Museum, the report said. In one room, for instance, a chair carved with dragon and a big folding screen is displayed beside a dining table.
An employee at the club said the furnishings, commonly seen in rooms of ancient Chinese emperors, were reproduced based upon the original antiques at the Palace Museum.
A special stage has been set up so that some officials who come to the club could enjoy the performance of Peking opera, the employee said.
The starting price for dinner at the club is 800 yuan (130$) per person but a meal would generally cost 2,000 yuan (323$) per person. Customers can also pay 2,000 yuan per day to stay at the club overnight.
People living nearby said luxury cars are often seen coming in and out of the club at night.
In November, China issued a decree prohibiting private clubs in historical buildings, parks and other public facilities to crackdown against hedonism and extravagance among officials.
High-end restaurants, gymnasiums, spas and hotels were among those banned from opening at historical buildings or parks.
Former Guangzhou Party chief Wan Qingliang, who was expelled from the Communist Party of China (CPC) and removed from his public post for accepting huge bribes, frequented high-end private clubs, according to the investigation by the Central Commission for Discipline Inspection.