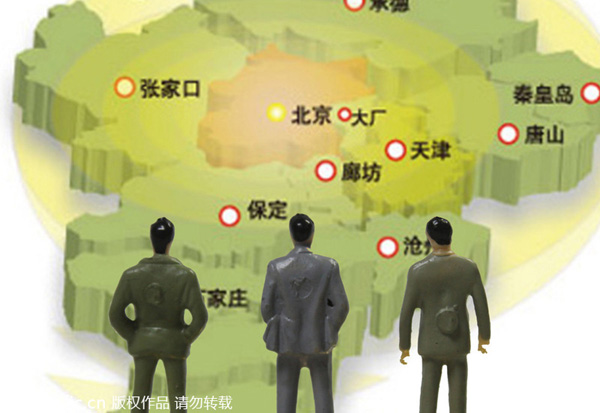 View of Beijing,Tianjin and Hebei province in map, April 14, 2014. [Photo/IC]
Coordinated development of the Beijing-Tianjin-Hebei area has become the primary mission on the list of economic goals for next year, which was released by the Central Economic Work Conference concluded in Beijing on Thursday, the Beijing News reported on Friday.
Transportation, environment and industry will lead the reform. In terms of transportation, governments of the three regions and China Railways Corporation plan to invest 10 billion yuan ($1.61 billion) to build a Beijing-Tianjin-Hebei railway transportation company, said Yang Chongyong, executive vice-governor of Hebei province, in a forum recently.
A common transportation card is expected to be used between Beijing, Tianjin and some major cities in Hebei province in 2017.
The deadlock of the Beijing-Tianjin-Hebei economic integration is expected to be broken early next year after nearly 30 years of stagnation. One of the main reasons behind the sluggish integration is believed to be a lack of a coordinating institute on a national level serving as a powerful driving force.
The authorities have taken action. A leading team and office to promote the synergetic development of Beijing, Tianjin and Hebei province has been set up by China's cabinet, with Vice-Premier Zhang Gaoli appointed director, people.cn reported on Aug 8.
Leaders of three regions have also reached several agreements to push forward the integration since June.
According to a report from Xinhua on Nov 27, the draft plan for the growth of the area may take the form of "two centers, three axes and one belt", with Beijing and Tianjin as two centers and costal areas forming an economic belt.
Related news
China drafting Beijing-Tianjin-Hebei development plan