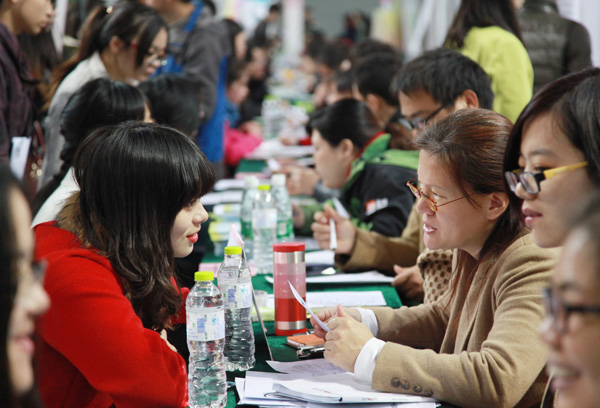 A graduate of Nanjing Forestry University introduces herself to a recruiter at a job fair organized by the university in November. Liu Jianhua / for China Daily


Students should finish school before starting businesses, some experts say
While the Ministry of Education allows college students to suspend their studies to start up their own businesses, some teachers and experts suggest that schooling should be completed first.
The ministry released a notice on Wednesday requiring colleges and universities to set up a flexible education system allowing students to suspend studies temporarily to pursue business ideas - a measure designed to help improve employment, given the increasing difficulty college graduates have landing jobs.
Last year, 6.99 million students graduated from colleges and universities nationwide. The number increased to 7.27 million in 2014 and is expected to be 7.49 million in 2015, Beijing Times reported.
Against that backdrop, the Education Ministry asked colleges and universities to offer more preferential policies, guidance and services to students, including adding curricula, organizing venture contests and hiring successful entrepreneurs, investors and experts to act as mentors.
Zheng Dongliang, director of the Work Science Research Institute, a research branch of the Ministry of Human Resources and Social Security, said he thought the suspension of studies would provide many students with more flexibility and choices.
"It's good news for students who would like to try starting up their own business but don't want to give up their studies," Zheng said. "Students can come back to school if, unluckily, their entrepreneurial idea doesn't work out."
Shi Zugao, a senior at Zhejiang University of Technology who started his own business reselling clothes in 2011, was thrilled to hear the news.
He recalled that when his business was first started, he had to get up at 5:30 am daily to check and organize T-shirt orders, and then attend classes like other students. At night, he often stayed up until midnight to handle work related to the business.
"It's extremely tiring to do two separate things at the same time. In those days, I really wished I could suspend my studies for a while, focus on my business and see how well I could do," the 22-year-old pharmacy major said.
However, Zheng, the director, said students like Shi are in the minority, and he recommended focusing on studies until graduation.
"It will be better for students to start up their businesses after graduation, as entrepreneurship requires experience, capital and many other conditions to succeed," Zheng said.
Yang Qiuping, general manager of Fudan Software Park, agreed. Yang set up an account on Sina Weibo to help students solve problems they encounter in their business startups.
"For most students, starting up a business is not what they should be doing during the college years," she said. "Studying hard and achieving an academic degree is the way out."
zhaoxinying@chinadaily.com.cn