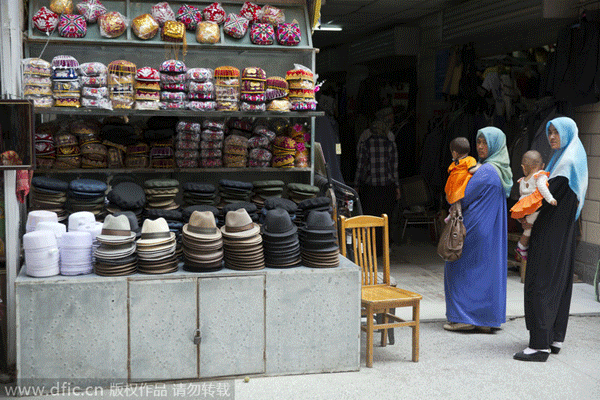 Uyghur women in loose, full-length garments and headscarves visit a market in the city of Aksu, Xinjiang, July 17, 2014. [Photo/IC]
Legislators in Urumqi, capital of the Xinjiang Uygur autonomous region, have passed a regulation banning the wearing of full-face veils and full-body coverings in public.

The move is the latest attempt in the region to use the law to curb the spread of religious extremism.
The regulation was passed on Wednesday by the standing committee of the Urumqi people's congress. The approval of the regional people's congress will be required before it takes effect, www.ts.cn, the regional government's website, reported on Thursday. Details of the regulation were not given.
Officials say the wearing of full-face veils and full-body coverings is associated with religious extremism.
A recent report by the Regional Bureau of Religious Affairs says the number of women wearing such clothing in Xinjiang, especially in southern areas, has increased significantly over the past few years.
The report says this reflects the deep and extensive spread of religious extremism imported from abroad, and adds that many women are forced to wear the clothes.
The Xinjiang government believes the spread of extremism in the Muslim-populated region has led to an increasing number of terrorist attacks. Eliminating this threat is one of the government's top priorities.
On Nov 28, the regional people's congress passed a regulation prohibiting people from wearing, or forcing others to wear, clothes or logos associated with religious extremism.
The revised regional regulation on religious affairs is the first in the country to target religious extremism, and is due to come into force on Jan 1.
Local authorities will be given the right to ask people not to wear clothes or logos linked to religious extremism, though the types of clothes and logos are not specified.
The regulation prohibits people from distributing and viewing videos about jihad, or holy war, religious extremism and terrorism in or outside religious venues, and requires religious leaders to report such activities to officials and the police.