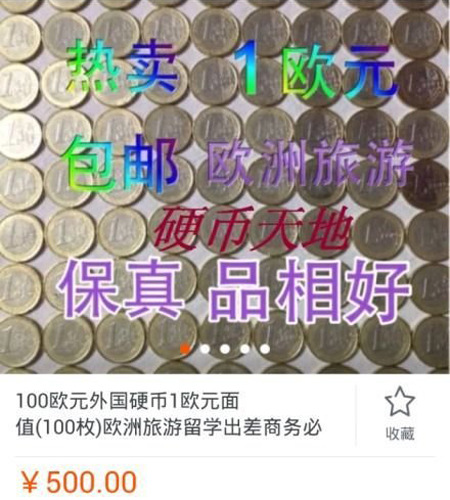 A screenshot of fake euro coins sold on Taobao.
A Sina Weibo user has exposed Taobao sellers for selling fake euro coins, the Beijing News reported on Wednesday.
A euro is worth 7.6 yuan, which means that 100 euros are worth about 760 yuan. Traders of Taobao, China's e-commerce platform, were trying to sell 100 fake euro coins for 500 yuan, about two thirds of the real price.
"The yuan-to-euro exchange rate is less than 8 and people are spending 500 yuan to buy fakes. Unbelievable!" a Weibo user commented.
The euros on sale are "refurbished" old coins, a Taobao seller told the Beijing News. Fake-looking coins would not have refurbished well, he added.
Yuan Yinlong, a coin specialist, said that whether or not the coins are fake depends on how much counterfeiters can profit from their activities. Given current manufacturing technology, forging coins is not difficult.
Authorities from Taobao addressed the concerns on Wednesday afternoon. Website staff have been investigating whether the coins are counterfeit, and promise that any illegal products will be removed.
By 10pm on Wednesday, it was reported that several sellers were no longer offering the coins.