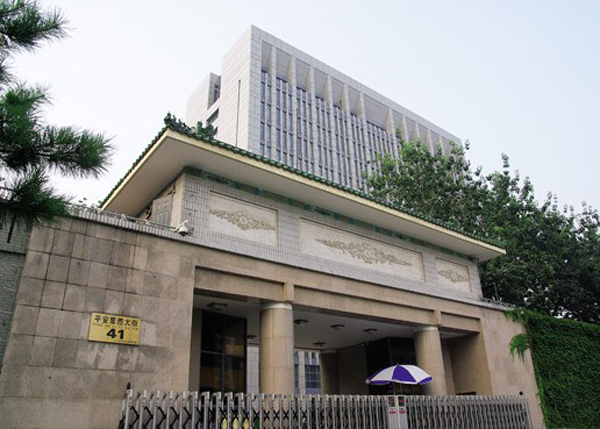 An office building of the Central Commission for Discipline Inspection in Beijing. Photo/Baidu.com
About 1,000 employees are currently working at China's top anti-corruption body, according to a report by Phoenix Weekly on December 3, 2014.
Kerry Brown, Professor of Chinese Politics and Director of the China Studies Center at the University of Sydney, said in an interview with the magazine that an official of the Central Commission for Discipline Inspection (CCDI) of the Communist Party of China (CPC) told him that the watchdog currently has a total staff of around 1,000 and 23 percent of them are female.
Brown was invited with other scholars for a visit to the CCDI by the Communist Party of China (CPC) in September.
This is the first time that the staff size of China's top discipline inspection agency has been revealed after the CCDI disclosed in 2007 that its personnel size was 800.
The CCDI has increased its investigative divisions from eight to 12 since the current Party leadership took office in November 2012 and the inspection agency has added about 100 inspectors to better fight corruption, Zhang Jinan, a member of the CCDI Standing Committee, said in April.
The number of investigators, who directly handle corruption cases, account for almost 70 percent of the agency's total staff at the moment.
But the organization's overall size remains unchanged, the CCDI said, which means it has allocated more departments and personnel on anti-corruption work.
Over 50 national, provincial or ministerial level high-ranking officials have been investigated by the CCDI since November 2012, including Zhou Yongkang, former Standing Committee member of the political bureau of the CPC central committee.
In China, most corruption cases involving Party and government officials are firstly investigated by discipline inspection agencies to examine whether Party rules have been violated. Cases are passed over to prosecutors if laws are broken.
The CCDI handles cases involving high-profile officials and its local branches take charge of less prominent officials accordingly.