A Chinese maritime court opened a hearing on Tuesday in which 21 Chinese aquaculture farmers are suing two giant oil companies.
The farmers claimed in Tianjin Maritime Court that their livelihoods have been greatly affected by two oil spills three and a half years ago at the companies' offshore drilling operations in northeastern China.
The two companies are ConocoPhillips China and China National Offshore Oil Corp. The spills occurred in June 2011 at the Penglai 19-3 oilfield, China's largest and a joint exploration project between both companies.
The spills were confirmed by an investigation team comprising officials from government departments including the Ministry of Environmental Protection and Ministry of Agriculture.
The team said the incidents were "major maritime oil spill liability accidents" that had caused huge damage to the environment and fishery resources.
The farmers are demanding compensation of more than 141 million yuan ($22.74 million) for their "losses and suffering" in the years since the spill.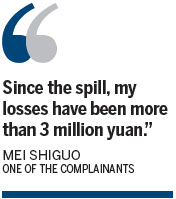 Luan Shuhai and other complainants said that because the companies failed to inform the public quickly about the spills, the farmers had used polluted seawater on their sea cucumber farms, causing crops to die.
The farmers' attorney presented a large amount of evidence stating that the oil spills were the main reason for their big losses.
But representatives from ConocoPhillips China didn't accept this evidence and said the complainants did not have a legal certificate for seafood farming. ConocoPhillips also said the amount of compensation the farmers are demanding is too high.
One of the farmers, Mei Shiguo, who is in his late 50s and harvests sea cucumbers, said his losses were catastrophic. "Since the spill, my losses have been more than 3 million yuan. I am really scared to calculate the losses, as I cannot repay my debts."
Tianjin Maritime Court officially accepted the case on Dec 30, 2011.
In a reply to China Daily, ConocoPhillips said, "As a matter of company policy, ConocoPhillips does not comment on ongoing litigation."
CNOOC refused to accept a water sample result provided to the court by the complainants and testing companies, saying the process involved in obtaining it had been "unprofessional and unscientific".
The oil spills polluted about 6,200 square km, with 870 sq km being heavily polluted.
The hearing continues.