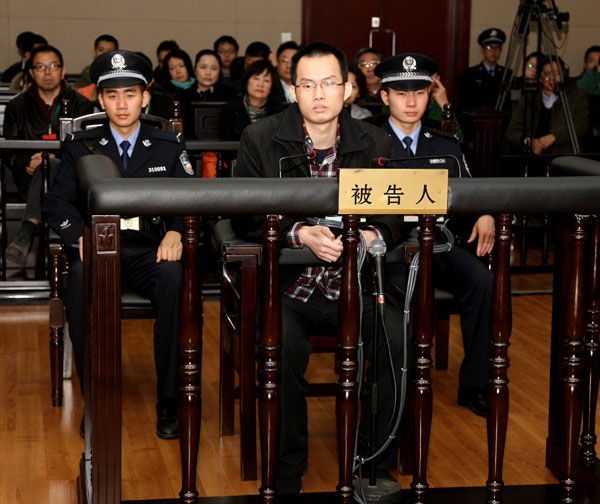 Lin Senhao, former student at Fudan University, stands on trial for a second time at Shanghai High People's Court on Monday. [Photo/Xinhua]
Forensic expert states victim died of hepatitis B virus
The defense lawyer of former medical student Lin Senhao, who was sentenced to death in February after being convicted of intentionally killing his roommate by poisoning, presented new evidence at a second trial on Monday, saying the victim died of the hepatitis B virus.
Lin handed over his 350-word petition for appeal at Shanghai High People's Court. The trial, like the first, centers on whether he intended to kill his roommate.
The 28-year-old Lin was a postgraduate student at Fudan University's School of Medicine in Shanghai. He admitted at his first trial that he had spiked the water in the dispenser at the dormitory on March 31, 2013. His roommate Huang Yang became sick after drinking the water on April 1, and died of organ failure 15 days later.
Lin said his move was just a prank for April Fools' Day and he did not intend to kill his roommate. He said that he had good relationship with Huang, and they never quarreled or fought with each other. He said he had found a job and was not jealous that Huang had been accepted for a doctoral program.
On Monday, Lin's lawyer presented a new piece of evidence. Hu Zhiqiang, director of the legal medical department at Beijing Huaxia Evidence Identification Center, said Huang died of acute hepatic necrosis caused by the hepatitis B virus and multiorgan failure. The death from the virus and the poisoning by Lin may be independent events, Hu said.
Hu said there is no evidence to support that Huang died of poisoning, according to China News Agency.
The defense lawyer also said the N-Nitrosodimethylamine, a semi-volatile organic chemical, was produced by an unlicensed business and had been stored for long time, so its composition may have changed.
Lin corrected and clarified the volume of the chemical he added to the water dispenser. He added the chemical but thought the solution was too strong, so drained some of it off into a cup and added clean water to the dispenser.
He questioned the specific volume of the chemical that Huang had ingested and whether this volume could lead to his death.
When asked by his lawyer if there was anything he wanted to say to Huang's parents, Lin lost control, burst into tears and was unable to speak.
Before the second trial, Lin wrote a letter of apology to Huang's parents but his apology was rejected.
The victim's father Huang Guoqiang said he cannot forgive Lin and hoped the court will uphold the original verdict.
Huang Guoqiang said Lin didn't tell the truth in time so doctors could save his son's life. He also said that Lin didn't tell him the truth when they had the chance to meet .
wanghongyi@chinadaily.com.cn