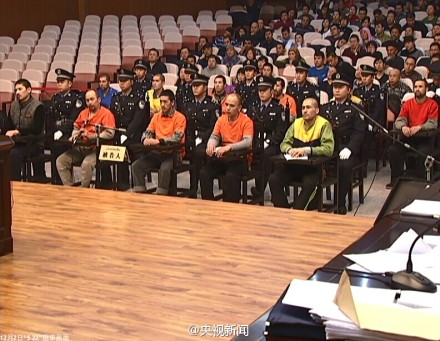 Terrorists stand trial at the Intermediate People's Court of Urumqi, Dec 8, 2014. [Photo/CCTV]
Eight terrorists who triggered two explosions that killed 46 people in the Xinjiang Uygur autonomous region received the death sentence on Monday.
Nine other terrorists involved in the two explosions received sentences ranging from five years in prison to the death sentence suspended for two years.
Xinjiang, the main focus of the nation's anti-terrorism campaign, also faces threats from separatism and religious extremism.
On April 30, an explosion at a railway station in Urumqi, capital of the autonomous region, killed three people, including two terrorists, and injured 79.
Ahmet Rexit was found to be the head of a terrorist cell that launched the attack. He was commanded by Ismail Yusup, a member of the East Turkistan Islamic Movement — a terrorist group listed by the United Nations.
Police investigations into the railway station attack found that Ahmet Rexit gave explosives to two accomplices and told them to launch an attack.
The two attackers stabbed people with knives at an exit to South Railway Station and set off explosives at about 7:10 pm after a train arrived.
On Monday, Ahmet Rexit and his partner Turson Amut were given the death sentence. Three others were given the death sentence with a two-year suspension. Ismail Yusup is on the run overseas.
On May 22, another group of terrorists drove two vehicles through roadside fences that plowed into people before the group detonated explosives at a morning market in Urumqi. That attack killed 39 citizens, four terrorists and injured 94 others.
Ma Pinyan, a senior anti-terrorism researcher at the Xinjiang Academy of Social Sciences, said the trials will serve as a strike against terrorism amid the one-year campaign to combat such activity.
The rule of law, which is being stressed nationwide, can be enforced in the region to crack down on terrorism and serve as a key measure to maintain stability in Xinjiang, Ma said.
A day after the May 22 attack, a yearlong nationwide anti-terrorism campaign was launched.
A total of 115 terrorist cells have been eliminated in the region in the past six months, halting most terrorist attacks before they could be launched, Xinjiang Daily reported.
The region has also dealt with 44 cases involving instructions on the Internet on the use of explosives, 294 cases relating to the distribution of violent audiovisual material and four relating to spreading rumors.
The investigation found that the suspects were all influenced by audiovisual material with content relating to violence and terrorism, a police officer said.
During the investigation, 171 illegal religious training sites were closed and 238 people who arranged training facilities were detained.
More than 18,000 documents, 2,600 discs and 777 storage devices relating to religious extremism were seized.
Contact thewriters at gaobo@chinadaily.com.cn