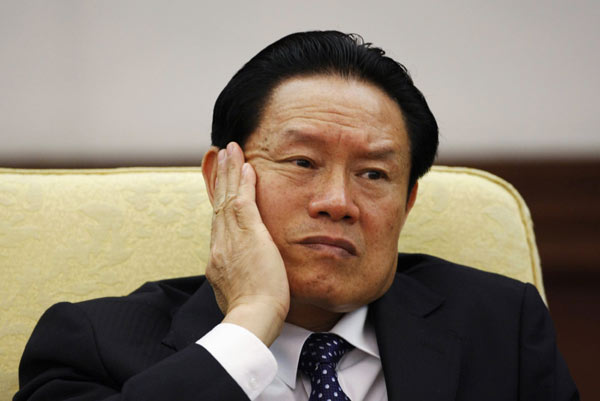 Then China's Public Security Minister Zhou Yongkang reacts as he attends the Hebei delegation discussion sessions at the 17th National Congress of the Communist Party of China at the Great Hall of the People, in Beijing in this October 16, 2007 file photo. [Photo/Agencies]
BEIJING - The Supreme People's Court (SPC) on Monday supported the decisions to expel Zhou Yongkang from the Communist Party of China (CPC) and to arrest him.
The Political Bureau of the CPC Central Committee on Friday decided to expel Zhou, a former Standing Committee member of the bureau, from the CPC and pass his case on to the judiciary.
Zhou Qiang, president of the SPC, stressed that the SPC supports the decisions, according to a statement issued after a meeting of the SPC on the decisions regarding Zhou's case.
The statement said the decisions uphold the principle that every person is equal before law, and will have a far-reaching impact on implementation of the rule of law. Judges must improve their work and combat judicial corruption.
The statement also said the SPC will change the judicial system to ensure that justice is felt in every case.