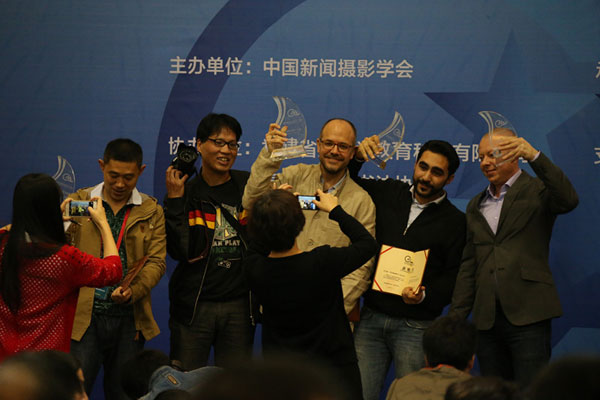 Winners of the contest pose in front of cameras.[photo by Hu Meidong]
Kevin Frayer, a Beijing-based Canadian freelance photographer, won "Picture of the Year 2013" at the award ceremony for the 10th China International Press Photo Contest (CHIPP) in Quanzhou, Fujian on Saturday.
Frayer's winning photo features the aftermath of Typhoon Haiyan, which struck the Philippines last year. It was also awarded the gold medal in the "War and Disaster News Stories" category.
Initiated by the China Photojournalists Society in 2005, CHIPP has become a popular event among photojournalists and professionals from China and abroad.
The event received over 30,000 entries from more than 3,000 photographers in over 60 countries around the world between last December and February, according to Xu Zugen, director of China Photojournalists Society and chairman of CHIPP organizing committee.