China's long-term dependence on executed prisoners as organ donors will end at the start of next year, according to a high-ranking official.
Human organ transplants will rely on voluntary public donations from Jan1, HuangJiefu, director of the China Organ Donation Committee and a former vice-minister of health, said on Wednesday.
Living organ donations by relatives will still be allowed, Huang said at a conference in Kunming, the capital of Yunnan province.
"Harvesting organs from executed prisoners for transplants is controversial, despite written consent being required from donors and their relatives," he said. "The Chinese government has always been resolute in making efforts to end such practice.
"Donations by the public should be the only source of organs for transplants," he stressed.
The public has been able to donate organs after death to help save others' lives under a nation-wide system launched in 2010 by the National Health and Family Planning Commission and the RedCross Society of China.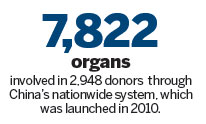 As of Tuesday, there were 2,948 organ donors from the public through the system, involving 7,822 organs, according to official figures. Of these donations, 1,500 were made this year.
"With good access and fair and open practice, Chinese are always willing and ready to donate to help others in need," Huang said.
To ensure fair allocation, all donated organs are distributed under a computerized system.
"The most severely ill get donations under the system, regardless of their social status and wealth," Huang said. "Judicial departments are not entitled to decide where the organ donations go."
Before the distribution system was introduced, organs for transplants were allocated by hospitals, with most of them harvested from executed prisoners.
"We could not simply reject organ donations by inmates, but the practice had to be well regulated to safe-guard fairness," Huang said.
Under the current system, specialized organ procurement organizations have been set up nationwide to ensure standard practice and quality in organ donations.
On average, there are about 10,000 organ transplants in China annually, but 300,000 patients need transplants each year. Huang said a liver transplant costs 500,000 yuan ($81,000) and a kidney transplant 200,000 to 300,000 yuan.
Contact the writer at shanjuan@chinadaily.com.cn
(China Daily 12/05/2014 page3)