Premier says fourpoint consensus creates sound basis for better ties between countries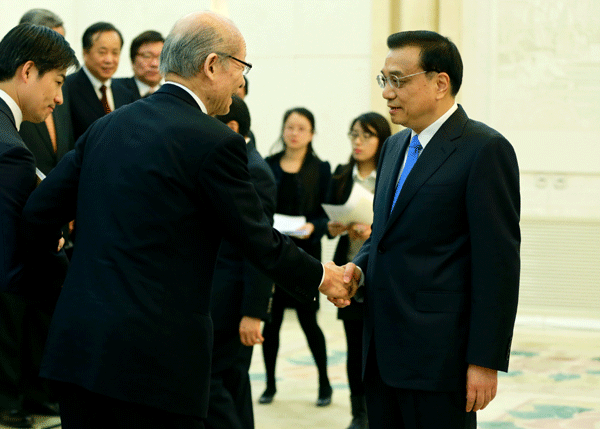 Premier Li Keqiang meets delegates of the 21st Century Committee for ChinaJapan Friendship in Beijing on Thursday.FENG YONGBIN / CHINA DAILY
The Chinese government hopes China and Japan can overcome political barriers, take history as guidance and look into the future to promote bilateral relations, Premier Li Keqiang told a visiting Japanese delegation on Thursday.
Li said a healthy and stable relationship between China and Japan is important to the peace and prosperity of both countries, as well as the region as a whole, and China's policies toward Japan are consistent.
"We believe that China-Japan relations must be based on the fourpoint principled consensus, draw lessons from history and overcome political impediments," Li said while meeting the Chinese and Japanese delegations of the 21st Century Committee for China-Japan Friendship, a high level advisory body on Sino-Japanese relations.
"China hopes Japan can carefully handle the issues of principle that could impede the healthy development of our relations," Li said. "Only if we focus on the big picture of our relations over a long term can we carry out what we have agreed and hence improve our ties."
Li said China and Japan could carry out more activities in educational and cultural sectors and promote exchanges between local governments and the youth to provide the conditions to improve ties.
It was Li's first meeting with Japanese guests since he become premier in March 2013. The two-day meeting of the committee began on Wednesday in Beijing, after being postponed for three years.
The event was cochaired by Tang Jiaxuan, former State councilor and now president of the China-Japan Friendship Association, and Tokyo Stock Exchange President Taizo Nishimuro.
Nishimuro said the committee had held candid talks and his delegation is willing to continue the work in improving bilateral relations and promoting exchanges and mutual understanding. 
Tang said the Chinese and Japanese members of the committee agreed that the fourpoint consensus on principles is the first step to making progress in soothing relations between the two countries. As to the next step, Tang said that commemorating next year's 70th anniversary of the end of World War II could be an opportunity for Japan to improve its relations with East Asian countries.
Takahara Asou, a Japanese analyst, said the consensus is a great achievement for the two countries and should be fully implemented.
Liu Jiangyong, a professor of international studies at Tsinghua University, said the meeting of the committee, which is currently the highest level advisory body on Sino-Japanese relations, was "friendly and candid". "The report being worked out at the meeting is expected to give guidance to both governments, but it is unrealistic to count on just one or two meetings to solve the long-lasting issues between the two countries," Liu said.