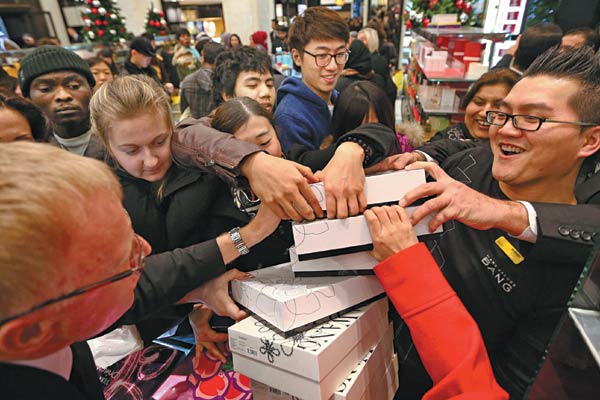 Customers, among them many Chinese, try to grab a bargain at a perfume counter at Selfridges department store in London. ETER MACDIARMID/GETTY IMAGES


Most travelers choose destinations in Asia, benefiting neighboring economies
The number of outbound tourist departures from the mainland has exceeded 100 million in a calendar year for the first time, the China National Tourism Administration has announced.
The milestone was reached at the end of November. Nearly 90 percent of departures were to Hong Kong, Macao, Taiwan and Asian countries.
The number of departures has been growing steadily for years, boosted by simplified visa application procedures and tailored travel services.
"It is a landmark for the development of China's tourism industry," said administration official Zhang Jilin. "In 1998, we had only 8,430,000 outbound tourists, and now we have surpassed 100 million."
The number of outbound tourists from the mainland reached 98.19 million in 2013, an 18 percent year-on-year increase, according to the CNTA.
President Xi Jinping said during the Asia-Pacific Economic Cooperation meeting in Beijing on Nov 9 that the number of outbound tourists from China will exceed 500 million in the next five years.
According to the CNTA, Asia accounted for 89.5 percent of departures so far this year, a 161 percent increase on the 2013 figure for the continent.
Among the Asian destinations, Hong Kong, Macao and Taiwan together accounted for 70.4 percent.
Li Shihong, head of the administration's marketing and international cooperation department, said: "The destinations that attracted more than 1 million Chinese mainland tourists each this year are South Korea, Thailand, Japan, the United States, Vietnam and Singapore."
Dai Bin, the head of the China Tourism Academy, said the booming outbound tourism benefits the economies of neighboring countries and the region.
"The Chinese like to say, 'a far-off relative is not as helpful as a near neighbor'," said Dai. "This is a very successful part of China's diplomacy with its neighbors."
Wan Yanyong, director of the Tourism Development and Planning Research Center at Beijing Jiaotong University, said tourism to neighboring countries and regions still has a lot of growth potential.
"Many Chinese outbound tourists recently went overseas for the first time," said Wang. "They have to consider the cost and duration of a trip, language and cultural differences. To start with a neighboring country is a good choice."
Wang said political tension in certain countries and regions is unlikely to harm the tourism industry significantly.
suzhou@chinadaily.com.cn