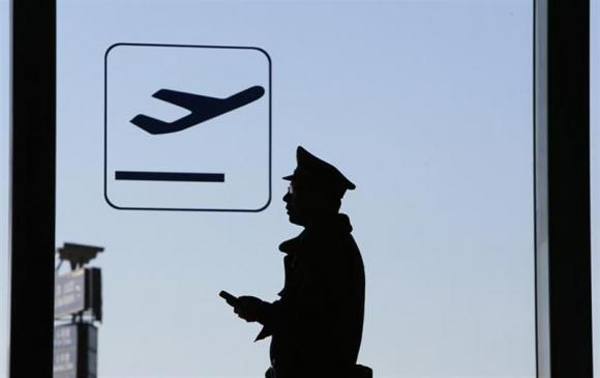 A policeman is silhouetted inside Beijing International Airport, March 13, 2014. [Photo/Agencies]
At least 154 fugitives suspected of economic crimes have turned themselves in ahead of the Dec 1, deadline which grants lighter punishment amid the "Fox Hunt 2014" campaign, the Beijing News reported Tuesday.
On Oct 10, the Supreme People's Court, the Supreme People's Procuratorate, the Ministry of Public Security and the Ministry of Foreign Affairs released a joint statement urging economic fugitives to surrender themselves to justice.
Those who confessed their crimes and returned to China voluntarily would be given a lighter or mitigated punishment if they did so before Dec 1, 2014, according to the announcement.
The move was part of the "Fox Hunt 2014" campaign launched on July 22. The operation focuses on catching economic criminals, including corrupt officials who fled overseas.
By Dec 1, at least 335 fugitive suspects have been caught in the "Fox Hunt 2014" operation. The number is more than twice of the amount in last year's campaign.
Whereabouts of the "foxes"
The latest official data shows that 43 of the fugitives seized were from Zhejiang, ranking top among all the provinces. Guangdong follows with 42 suspects captured.
According to the police, suspects have set foot in dozens of countries and regions. Apart from favored places like the United States and Canada, many other countries have become top destinations. Vietnam, Laos, Angola, Egypt, Mexico and Fiji are among the fugitives' safe havens.
Some "foxes" even lived in multiple countries during their flight. A suspect from Shanxi province who surrendered had stayed in more than 10 countries.
"I went to an island country in Africa at first, but felt unsafe there. After a few days I left for Swaziland which has no diplomatic relations with China", said the suspect.
Some other fugitives chose to flee to nearby countries. Two of the six captured suspects from Heilongjiang province hid in Russia, and Inner Mongolia's only fugitive was found in Mongolia.
Among all the captured fugitives, 20 had been living overseas for over 10 years, with the longest clocking 16 years abroad.
Hunting never ends
The "foxes" who didn't turn themselves in before the deadline will still be the targets of the hunt, according to an announcement.
"The hunting of the economic fugitives will never end as long as there are suspects", said Liu Dong, an official of the "Fox Hunt 2014" campaign.
The CPC Central Commission for Discipline Inspection is preparing a database of the fugitives, which will be made public on its official website, according to the Beijing News report. Helpful information will be collected from around the globe.
By November, the country had 39 extradition treaties with 39 countries, of which 29 have come into effect, and 52 criminal judicial assistance treaties, of which 46 are already in effect.
China has established consultation mechanisms for law-enforcement collaboration with the United States and Canada, putting things in place for project "Fox Hunt" to succeed.
The APEC economic leaders agreed in November to fight against corruption and deny safe havens to the corrupt officials and their ill-gotten assets in a joint declaration.
At the recent G20 summit in Brisbane, Australia, the countries concerned passed an anti-corruption program of action, agreeing to set up a network for anti-graft cooperation and committing themselves to extending mutual judicial assistance and eliminating safe havens for corrupt officials.
"The cooperation agreements between countries provide legal basis to hunt economic fugitives", said Huang Feng, director of the International Criminal Law Institute of Beijing Normal University.
"The next step is to research the legal system of other countries, seeking for more support besides the extradition treaty", he said. "Related departments should also improve their capability in International cooperation".