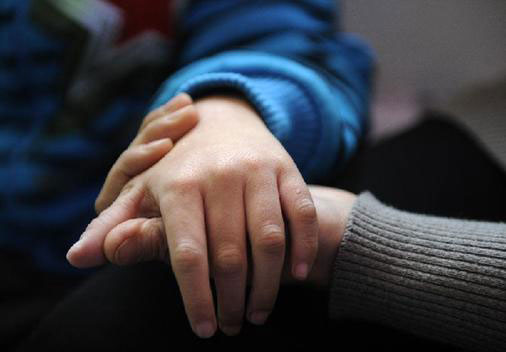 The photo taken on January 15, 2013, at Huifeng village of Ningxia Hui Autonomous Region, shows a foster mother holding the hand of an abandoned child. [Photo/Xinhua]
New regulations on family foster care in China will take effect on Monday, according to the Ministry of Civil Affairs.
The new rules allow each foster family to take in a maximum of two children, instead of the current three, provided that the family does not have a child of its own aged below six.
The formal qualifications required of foster parents are also being raised. Prospective parents should have completed at least nine years of formal education and their financial status should be at least average for their region.
Foster families are already an anomaly in China and social workers are worried that while the new regime may better protect children, it may make the rare foster families even rarer.
Limited public resources
Huanhuan, an abandoned baby girl, was lucky enough to find a foster family in Nanning, capital of south China's Guangxi Zhuang Autonomous Region.
Nine months ago, a policeman found the newborn Huanhuan on a sidewalk and took her to a local welfare center. Several days later, a 54-year-old housewife named Peng Xianxian took her home and became responsible for her day-to-day care until Huanhuan can be adopted.
Relying on only 1,100 yuan (180 US dollars) from the welfare center each month for each child, and her husband's monthly pension of 3,000 yuan, the couple has fostered a total of nine children over the past 12 years. Now they only have Huanhuan and Axia, another abandoned girl. Other children have all found permanent families.
"I don't have a job. Although we are under economic pressure, we feel good giving these children the love of a family," said Peng.
Families like Peng's are hard to find, and developing new foster families is very difficult, Chen Lining, deputy head of Nanning child welfare center, told Xinhua. The center has developed 180 foster families since 2000, but with drop outs, the figure has barely increased since 2006.
"Children without proper parental care tend to be withdrawn or violent. That's why I keep trying to find new foster families," said Huang Yanlan, who has worked on fostering in the Nanning center for five years.
Even Peng, who has devoted 12 years to looking after unwanted kids, this "job" will not last forever. Like many other foster parents in their fifties and sixties, she plans to quit as soon as her grandchild is born. In most Chinese elderly people's minds, nothing compares to taking care of their own grandchildren, while many young couple worry about money or just don't want such a responsibility.
Currently more than 470 children are living in the Nanning center, most of whom are disabled in some way. Among them, 200 healthy or mildly disabled are fostered with families.
Every year more abandoned babies are brought in, and new foster families become harder to find, overburdening the already crowded center.
Long way to go
Family foster care began in China in the early 1990s. Living with foster families can be of great benefit to the mental and physical health of orphans and disabled children. Currently, about 30,000 children are living in foster families across the country. The number is still very small.
Many state orphanages are overcrowded, so abandoned children are sometimes informally fostered by caring people who simply find them left at hospitals or by the roadside.
A 2013 fire that killed seven children in central China's Henan Province drew the whole country's attention to Yuan Lihai, a controversial and unlicensed Chinese carer, and her orphanage. For 25 years, without any license, Yuan had taken in over 100 orphans or foundlings, most of whom had congenital illnesses.
After the fire, some accused her of taking in children for profit, while others defended her for her personal war against China's poor childcare. All in all, the debate showed how inadequate public services for unwanted children really are in China.
In March, the use of a baby hatch in south China's Guangzhou city was suspended, because the operator could no longer deal with the number of babies being left, another horn on the country's dilemma of unwanted infants.
Huang believes that if more families join the army of foster carers, the welfare center could take in more unwanted children rather than close the baby hatch in despair.
"So apart from raising the monthly allowance for foster families, we should raise people's awareness and give them a chance to know about these children, remove the obstacles in their minds, and welcome them to their families," said Huang.