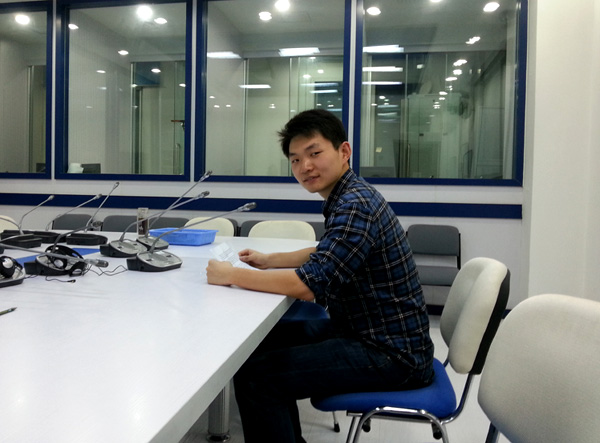 Ma Lin practices his interpretation skills at University of International Business and Economics in Beijing on Nov 20. The 24-year-old graduate student says he wants to take the national civil service exam because the job of civil servant provides him a good platform to accumulate experience as a conference interpreter. [Photo/chinadaily.com.cn]
The high-profile arrests of government officials amid China's ongoing anti-corruption campaign have done little to discourage job-seekers, especially fresh college graduates, looking for work as civil servants.
In fact, more than 1.4 million candidates have applied for the 2015 civil service exam taking place on Sunday. Although the number of applicants dropped from last year's 1.52 million, there will still be an average of 64 candidates for each of the 22,000 job openings offered by national agencies, public institutions and local governments, according to the People's Daily overseas edition.
The incentives for the incoming civil servants ranged from career dreams to the multiple welfare benefits and the consistent salary, known in China as the "iron rice bowl".
"I really want to become a civil servant. It will allow me to do what I'm majoring at and also provide an unparalleled platform for beginning conference interpreters to accumulate experience," said Ma Lin, a graduate student in the Chinese-English interpretation department of Beijing-based University of International Business and Economics who takes the exam on Sunday.
"With valuable experiences accumulated, I can choose either to advance my career as a civil servant or just back out," said Ma, adding that he hasn't ruled out the possibility of taking civil servant as a lifetime job.
Unlike other applicants, the 24-years-old isn't much bothered by the intense screening process that leaves most applicants left out.
"The number of people that are really competitive is not many, though the acceptance rate is low," said Ma, who already passed the preliminary screening for the position he applied for in which 23 out of roughly 60 were left to compete for the openings.
Ma also wasn't particularly excited about the record low number of applicants many argued caused by the recent intensive crackdown on graft either.
"Though the total number is low, the job openings that suit me still attract many applicants," said Ma.
Yang Siqi, Ma's classmate who applied for the same position and also passed the preliminary screening, signed up for the exam for a different reason.
"My parents want me to become a civil servant because they think it's a decent job for girls," said Yang.
But Yang, who comes from South China's Guangdong province, added: "I want to find a job near my hometown."
Statistics in 2012 show that 76.4 percent of China's college graduates want to be a civil servant, much higher than in other countries. For example, in Singapore only two percent of graduates sought government employment, while the number in the US was three percent and in France it was a little more than five percent.
In the UK, civil service is one of the 20 least-favored jobs among university students. Chinese citizens who already have a job are also attracted to civil service openings.
"It's the third time I took the exam," said 30-year-old Fan, who is only willing to give her surname,"I really want to have a Beijing hukou, or a registered permanent residence, so that my life in Beijing will be a lot more convenient."
According to Chinese laws and regulations, only those with Beijing residency registration, or hukou, have full access to the many welfare services provided by the capital.
For example, Fan, who came to Beijing 10 years ago and now owns a property in the city, has to drive a car on a rented license plate because only those with Beijing hukou are eligible for a Beijing license plate. Becoming a civil servant is one of the few ways available to non-fresh graduates to obtain Beijing hukou.
Other things that make the job of civil servants attractive include a stable life, good pension plan, handsome salary, and upward mobility.
This year isn't the first time there has been a decline in the number of applicants for the national civil service exam, which was introduced in 1994. In 2012, 1.3 million applied to take the exam, 100,000 fewer than that of the previous year.
"I don't see a direct link between fewer applicants and the anti-corruption campaign," said Wang Dong, county official in Baoding, North China's Hebei province.
"Governments at all levels have adopted various measures to help college students get a job, so many don't have to apply to become a civil servant any longer."
Zhang Yongsheng, a civil service exam expert with Zhonggong Education, said the introduction of civil servant recruitment will also reduce the amount of applicants.
"I don't think those who really want to serve the people and the country will be intimidated by the crackdown on graft," said Chu Lidong, a graduate student with Beijing Foreign Studies University, who will also take this year's exam.