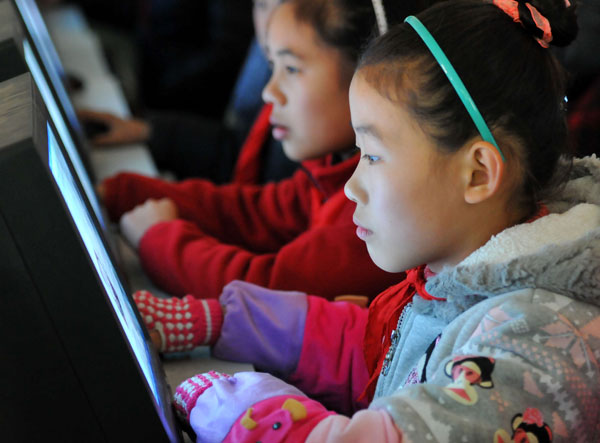 Students at a primary school in Hefei, Anhui province, surf the Internet in January. Ge Chuanhong / for China Daily
Report says one-fourth of students are online before 5
More than half of children in China under 18 started to use the Internet before they reached age 8, two years younger than was the case in 2010, according to a report released on Wednesday.
A fourth of the 10,000 students in the research learned to use the Internet even before they were 5, according to the report by the Chinese Youth Pioneers Business Development Center.
Of the 10 provinces and municipalities studied, Beijing had the highest proportion of children who have used the Internet - 96 percent.
The lowest rate was in Sichuan province. Nearly 78 percent of children in Sichuan said they have used the Internet.
According to the report, playing games and entertainment are the top two reasons children use the Internet.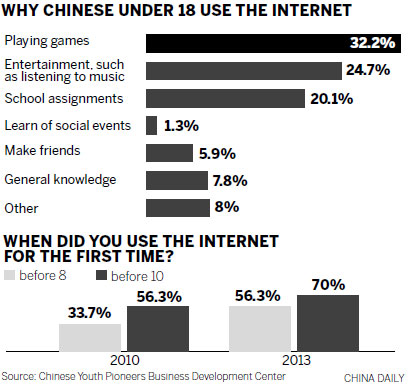 Also, 32 percent of respondents nationwide said they used the Internet mainly for playing games. About 25 percent said they usually surf the Internet to listen to music and chat on QQ, a popular messaging service in China.
Only a small number of children, about 2 percent, learn of social issues and get news through the Internet. Also, 20 percent of children said they have turned to the Internet to study or do research related to school assignments, up from 7 percent in 2010.
"Children now enjoy more access to the Internet at home, schools or through cell phones. However, they have also been exposed to unhealthy information more frequently than ever before," said Li Wenge, director of the center.
He said the Internet has gradually become people's "sixth sense".
"While we are taking advantage of the Internet, we should face the risks it might bring," he said.
The report shows a link between students' school performances in the tests with the frequency of Internet use through cellphones, with those who use cell phones to surf the Net doing worse.
About 80 percent of students who got lower scores in the tests said they had used cell phones for surfing the Internet, while the number who gained higher scores in the tests is around a half.
A lack of parental guidance is seen as a major concern about the negative influence that the Internet has on children, including poor eyesight and the risks of exposure to violent material.
"The report draws attention from both parents and also the public sectors. We could design more interesting and vivid apps and online programs related to education for children." said Shen Jie, deputy director of China Youth Research Center.
"The Internet is a double-edged sword. Since the trend of using the Internet is not avoidable, we should make the best use of it," he said.