When I visited the intensive care unit at Garze Tibetan Autonomous Prefecture Hospital in Kangding, Sichuan province, on Monday afternoon, I was touched by a migrant worker's interaction with four nurses.
Wu Maoqing, the worker, kept saying "thank you" to the nurses, who were patiently helping move him from one side of his bed to the other to prevent him from developing bedsores.
Migrant workers are low on the social ladder, but the nurses were kind to him even though he was dirty, he said.
The 45-year-old worker from a construction site had been hit by falling rocks when a magnitude-6.3 earthquake hit Tagong township in Kangding on Saturday. His neck and left thigh were fractured.
Two other critically ill patients were in the unit. One had a ruptured liver and two bruised lungs. He had to use a respirator. The other had a traumatic brain injury.
Fifteen nurses in the nine-bed unit worked extra hours to attend the wounded. Liao Shan and Wu Xumei, two pregnant nurses who needed care of their own, volunteered to work extra hours to attend the migrants, head nurse Gong Hongyu said.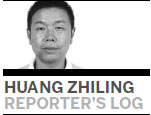 "It costs a patient 3,000 yuan ($490) per day in the unit. But those injured by the quake receive free treatment," she said.
People can be cold in a world clouded with material desires. But as a reporter heading for Kangding immediately after the quake, I was moved by the kindness shown by people following the disaster.
In a grassy field near the Minyag Zogchen School in Tagong, 4,010 meters above sea level, medics from an army clinic and a hospital for civilians braved altitude sickness and falling snow to work their way through a long line of ill Tibetan students, diagnosing them and providing free medicine.
Several telecommunication companies offered cellphones, and students and relief workers alike made free calls to their loved ones.
Groups of Tibetan children warmed the hearts of passers-by as they squatted to tell their parents they had received hot rice and eggs fried with tomatoes, along with tents to live in.
Sichuan is prone to earthquakes. A magnitude-8.0 quake struck Wenchuan in 2008, leaving about 90,000 people dead or missing. In 2013, a magnitude-7.0 quake hit Lushan, killing nearly 200.
The province shows its experience in the current relief effort.
Soon after the Kangding quake, it warned individual volunteers not to enter the quake zone, where temperatures dropped as low as -10 C at night, and not to block roads through which they might enter.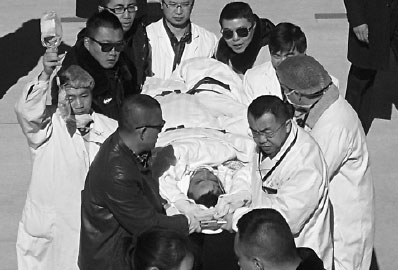 Wu Maoqing, lying in a stretcher because of injuries to his neck and left thigh, is transferred from Kangding to Chengdu, Sichuan province, for better treatment on Tuesday. Huang Zhiling / China Daily