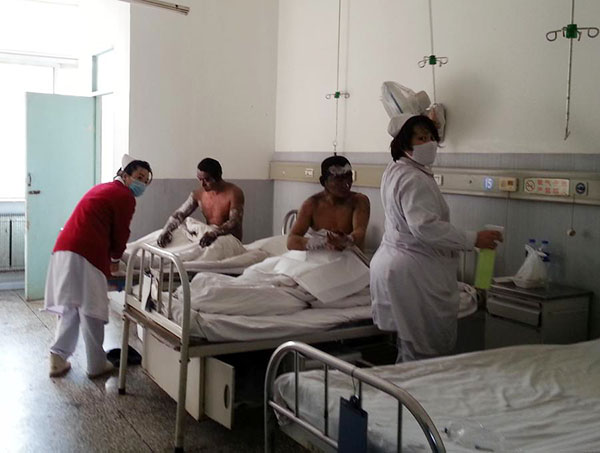 Patients receive treatment in a hospital in Northeast China's Liaoning province on November 26, 2014. A coal mine fire killed 24 workers and injured 52 others early Wednesday. [Photo/Xinhua]
SHENYANG - A coal mine fire killed 26 workers and injured 50 others in Northeast China's Liaoning province early Wednesday, the state-owned Liaoning Fuxin Coal Corporation told Xinhua.
The fire occurred at 2:35 am in a coal mine under Hengda Coal, a subsidiary of Fuxin Coal, a major producer in the province.
Fuxin Coal said the rescue is over and all the injured workers have been hospitalized.
"Some of the injured are still in critical conditions and might need to be transferred to bigger hospitals in the provincial capital of Shenyang," a medical worker with the general hospital run by the mine company told Xinhua. She declined to give her name.
The victims mostly suffered burns and respiratory damage, she said.
Fuxin is some 200 kilometers northwest from Shenyang. It will take around three hours to transfer the victims.
Before the fire broke out, a 1.6-magnitude quake was monitored at 1:31 am at a city near the coal mine. Local government is investigating connections between tremor and the fire.
Hengda Coal has halted operations in all of its mines for safety checks. The company employs more than 4,600 people.
Built in 1978, the Fuxin mine is one of the largest coal producers in northeast China with an annual production of 1.5 million tons. The Fuxin Coal has some 4,660 employees.
It's not the first time such an accident has happened in the mine. Last year, eight workers were killed during a gas leak in a Fuxin Coal mine.
A deadly blast happened in a coal mine owned by the company in February in 2005, killing 214 people and injuring 30.