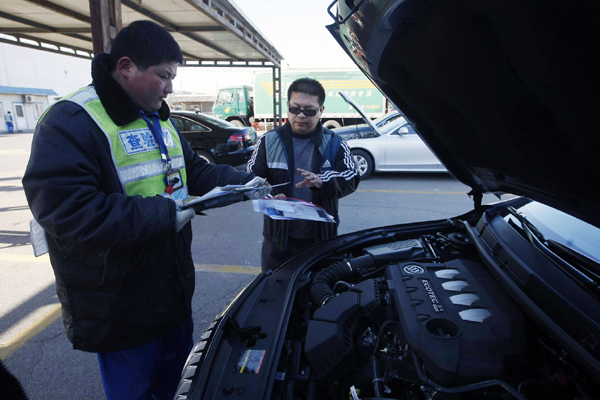 A buyer registers for his new car based on a lottery system in Beijing in this 2011 file photo. [Photo/CFP]
Eleven cars with Beijing number plates attracted more than 4,000 bidders in an online auction on Tuesday.
In less than 10 minutes after the auction, by a Beijing court, began at 8 am, the maximum price for all the vehicles listed had been reached.
A Jaguar, with a top price of 465,000 yuan ($75,700), was the top seller.
Most bidders have failed in more than 30 rounds of the system for issuing license plates. One has missed out in 41.
Starting prices are at levels set by assessment companies and top rates are not allowed to exceed 150 percent of the starting price.
Bidders have to hand over a deposit with the highest bidder winning. When more than one bidder offers the same price, the winner is decided on the number of lotteries he or she has taken part in. If there is more than one bidder with the same frequency of participation, the winner is decided by the registration date of the draw.
Currently, around 240,000 license plates are allocated annually in Beijing and authorities will limit the number of vehicles to within 6 million by the end of 2017.
Beijingers wishing to buy a car with fewer than five seats must follow the small-passenger-car policy. They apply online for registration and wait for the next license plate auction. People without a hukou, or Beijing citizen registration, are not allowed to apply.
Cities to have instituted a system for granting license plates are Beijing, Shanghai, Guangzhou and Tianjin. In these cities the price of a number plate may exceed that of a new car.