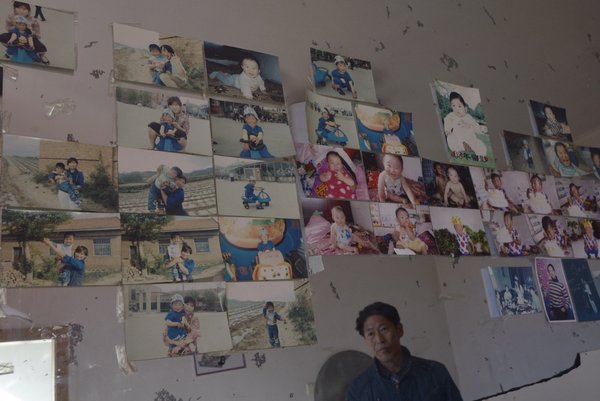 Pan Xiaomei's father leans against the wall where photos of Pan and her son hang. [Photo/CFP]
Related:
Subway victim was struggling single mom
33-year-old Pan Xiaomei, one of the million commuters, was pushed along by the crowd while boarding, becoming trapped between the train and the safety doorat the subway station of Huixinxijienankou on Line 5 on her way back home on Nov 6, 2014. She fell on the track as the train pulled out of the station.
Pan was a single mother and lived alone at a six-meter-square room she rented at Tiantongyuan. She had a 7-year-old son at her hometown in Hebei province. She became to sell cellphone at Gongzhufen six months ago and could earn as high as 7,000 yuan ($1143) a month. She sold six phones on the day she lost her life. Usually, she would set up a temporary stall to sell various goods at the neighbourhood where she lived after work. She had told her father that she planned to go back to hometown next year because she wanted to be with her son.