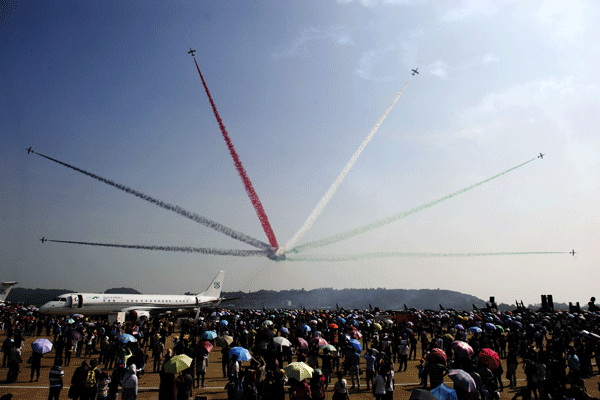 An aerobatics team from the United Arab Emirates performs at the closing ceremony of the 10th China International Aviation and Aerospace Exhibition held in Zhuhai, South China's Guangdong province, Nov 16, 2014. [Photo/Xinhua]
ZHUHAI -- China wrapped up its air show in the southern port city of Zhuhai, Guangdong Province on Sunday with over 300 deals worth a record $23.4 billion signed, according to the show organizer.
The 10th China International Aviation and Aerospace Exhibition, which started on Tuesday, witnessed sales of 227
aircraft of different types.
More than 700 aviation and aerospace manufacturers from 41 countries and regions attended the six-day air show. Meanwhile, the show attracted a record audience of nearly 410,000 people, the organizer said.
More than 130 various aircraft were displayed at the major air show in China, and stunt flying was performed by female fighter pilots from the China Air Force with J-10 fighters, according to the organizer.
The next air show will be held Nov 1-6, 2016 in Zhuhai, it said.