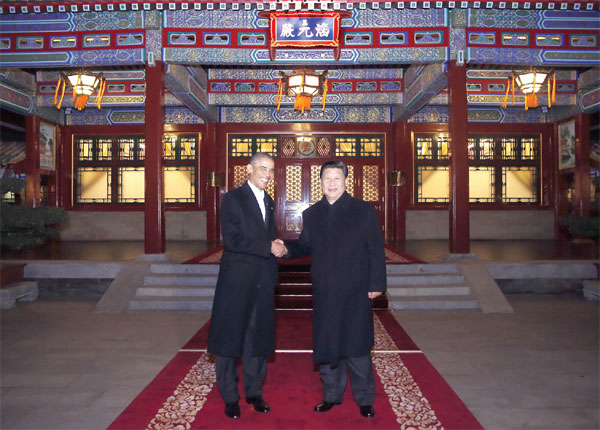 Chinese President Xi Jinping shakes hands with US President Barack Obama at the Zhongnanhai leadership compound on Tuesday night in central Beijing after the APEC meeting. [Photo/Xinhua]
When summarizing his stroll with Chinese President Xi Jinping on Tuesday, United States President Barack Obama was quoted saying that it was "the most comprehensive, in-depth understanding of the history of the Chinese Communist Party and its idea of governance and the thinking of his Chinese counterpart," People's Daily reported on Friday.
The one-on-one talk in the Zhongnanhai leadership compound, known as the heart of the central government, offered "a vivid lecture on China's history" for the US President. It lasted for almost five hours, much longer than scheduled, the newspaper published on its WeChat messenger account.
During the meeting, the leaders of the world's largest two economies visited Yingtai, an imperial palace within the Zhongnanhai compound. The arrangement was clearly carefully considered: one needed to know China's modern history to understand the Chinese people's aspirations and the path they had chosen, Xi said.
Built in the Ming dynasty, Yingtai is the former residence of several Qing Dynasty ( 1644-1911) emperors and has witnessed many historic events. Xi pointed out for Obama that the second Qing emperor, Kangxi (1654-1722), made the policies there to pacify civil strife and recover Taiwan from the Ming loyalists. Xi also explained that the young Qing emperor Guangxu (1871-1908) was imprisoned there after his modernizing reform failed.
Obama replied that China and the USA shared that aspect of history - that reform nearly always encounters resistance and demands courage to push forward.
The meeting, serving as a continuation of the two's informal meeting in Sunnyland, California in June last year, also included a private dinner and tea reception.
Unlike usual talks between the two countries, which stick to specific matters, the meeting on Tuesday enabled "an in depth exchange on fundamental issues", the report said.
The topics of conversation ranged from history to modern affairs, culture, politics, issues of historic implication and the strategic importance of both nations and the world.
The chat helped to promote understanding between the two leaders, People's Daily wrote.
Highlights of Xi Jinping's conversation with Obama:
A new normal for China:
Xi said China would embrace a "new normal" where the country will focus more on sustainability than high growth rates.
He said a 7 percent annual economic growth in coming years would be enough for its goal of doubling the per capita income of 2010 within a decade.
Democracy:
Democracy in China would not necessarily follow Western-style democracy of "one man, one vote". The government has paid more attention than western countries to the aspirations of its people.
Sovereignty
The top priority for the Chinese people, Xi said, was sovereignty, due to the country's history of invasion by foreign powers. The Chinese people cherished national independence, unity and stability.