For the faint of heart, leaping off a cliff 1,400 meters high wearing only a wingsuit seems like a suicidal stunt reserved for blockbuster action movies.
But Chinese paragliding pilot Zhang Shupeng is ready to take his 10-year aerial sport experience to the highest level - by joining global sporting elites to become China's first BASE-jump wingsuit flyer.
"This is the only direct way that human beings can literally fly as a bird," Zhang, who used to be a professional paraglider, told China Daily during the 3rd Red Bull World Wingsuit League China Grand Prix at Tianmeng Mountain in Zhangjiajie, Hunan province, in late October.
"What you need is a just wingsuit, like a pair of wings on your body, and you can fly on the wind without help from aircraft. That appeals to me so much."
BASE-jump wingsuiting is a sport which involves athletes jumping off a fixed object - the acronym comes from the building, antenna, span and earth or cliff objects - that provides enough altitude. The practitioners then fly in a wingsuit offering a body surface area with fabric between the legs and arms to enable a significant glide in the air. The flight usually concludes with a parachute opening.
A quiet and slim man in strangers' eyes, Zhang has never held back his bold passion for high-risk aerial sports since he started paragliding training in 2004.
After reaching his career peak to win the World Paragliding Accuracy Championships in 2009, Zhang started looking for new challenges in spite of family concerns over safety.
A close-up view of the world's best wingsuit pilots at the inaugural China Grand Prix in 2012 fueled his fascination with flight.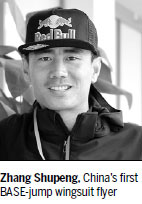 "When I stood on the edge of the platform to watch them jump into the open air, I felt a rush to jump off together with them. It was so strong, I almost couldn't hold myself back," the 28-year-old from the Inner Mongolia autonomous region said.
Despite his rich experience in paragliding and skydiving, Zhang knows how dangerous BASE-jump wingsuit flying can be if carried out prematurely.
"There are a lot more potential risks (in wingsuiting) than in other aerial sports. It requires high-level skills and a certain number of jumps to gain the experience needed to deal with extremely dangerous situations," Zhang said.
A series of high-profile casualties in recent years underscored the sport's exciting yet deadly nature.
In August 2013, British stuntman Mark Sutton, who parachuted into the London Olympics opening ceremony costumed as James Bond, died in an accident in Switzerland after wingsuiting off a helicopter.
Two months later, Hungarian Viktor Kovats died at Tianmen Mountain during a trial flight for the 2nd WWL China Grand Prix.
To guarantee safety, the WWL raised the bar for the BASE-jump wingsuit race, requiring at least 300 safe jumps for each flyer at the Grand Prix, which sidelined Zhang from competing this year.
"We want to take everything safely so we can have a long future. That's why we are holding him back," WWL President Iiro Seppanen said.
To help Zhang become the first qualified Chinese wingsuiter, WWL introduced experienced British pilot James Boole as a mentor for Zhang, who traveled overseas with Boole to train in the United States and Europe in August.
"We also want to have a Chinese participant in our race to better appeal to Chinese fans," Seppanen said.
During his weeklong stay at Mount Brento in Italy, Zhang scaled the peak at sunrise and took four jumps a day. A camera and GPS sensors were attached to him to monitor his movements.
"When I watched the video replay of my first BASE jump, I thought I would've appeared nervous in the air. Instead, I was giggling all the way down. The joy was really beyond description," Zhang said.
With the help of more resources and guidance abroad, Zhang has accumulated 50 jumps in the US and Europe. He is aiming to make his debut race at next year's Grand Prix.
"He's gone from a normal paragliding guy to a wingsuit pilot within two years. It's an amazing demonstration of passion and dedication," said Boole, a top-four finisher in the first two Grand Prix who has notched more than 2,000 wingsuit jumps.
"He is right on the line (to be able to race). He's just less experienced than the pilots here and the numbers and minutes (of jumps) will make the difference."
With plans to return to Europe in the spring of 2015, Zhang said his ultimate goal is to win the world championship and "prove that the Chinese can also fly".