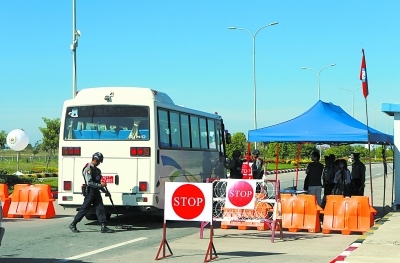 Security personnel conduct checks on a bus near the venue for the upcoming ASEAN summit in Nay Pyi Taw, Myanmar on Nov 11, 2014. [Photo/Xinhua]
NAY PYI TAW - As leaders from the Association of Southeast Asian Nations (ASEAN) and China will gather here on Thursday for an annual meeting on the sidelines of an ASEAN summit, they are ushering in a new era in their dynamic cooperation of mutual benefit.
FROM GOLDEN PARTNERSHIP TO DIAMOND COOPERATION
China and the 10-member ASEAN have labeled the past 10 years a "golden decade" for their relationship since 2003 when they forged a strategic partnership and have dubbed the next 10 years a " diamond decade," which both sides hope will feature more practical cooperation and regional economic integration.
China is the largest trading partner of ASEAN while ASEAN has emerged as China's third largest. Two-way trade amounted to $443.6 billion in 2013, nearly six-fold that of 2003. In the first three quarters of this year, the figure reached $346.6 billion, a 7.5-percent increase year-on-year.
Both sides are also determined to push their trade volume to $500 billion by 2015 and $1 trillion by 2020.
Analysts attribute the rapid development of China-ASEAN ties to their cooperation of mutual benefit and mutual respect.
"The China-ASEAN relations are characterized by mutual respect and China is not seeking a dominant role in bilateral cooperation, " said Mi Liang, a professor at the Beijing Foreign Studies University (BFSU). "The two sides do not attach any political strings to their economic ties."
Kaewkamol Pitakdumrongkit, an assistant professor at Singapore' s Nanyang Technological University, believed that the China-ASEAN cooperation has been doing well, such as the sub-regional development.
"China has funded much of the sub-regional development project like the Mekong," he said, referring to the 4,880-km Mekong river which flows from China to Myanmar, Laos, Thailand, Cambodia and Vietnam.
Gong Ting, a research assistant of the China Institute of International Studies, said the call for building an even closer China-ASEAN community of common destiny and the 2+7 cooperation framework put forward by China are aimed at deepening cooperation during the past "golden decade."
The two political consensuses chart a course of long-term development of China-ASEAN relations, while specific initiatives are mapped out in seven areas of cooperation in politics, trade and economy, inter-connectivity, finance, maritime cooperation, security as well as cultural and people-to-people exchanges.
"The initiatives are designed to broaden the converging interests between China and ASEAN countries and promote their cooperation to a new stage of the 'diamond decade,'" Gong said.
The 10-member ASEAN groups Brunei, Cambodia, Indonesia, Laos, Malaysia, Myanmar, the Philippines, Singapore, Thailand and Vietnam.