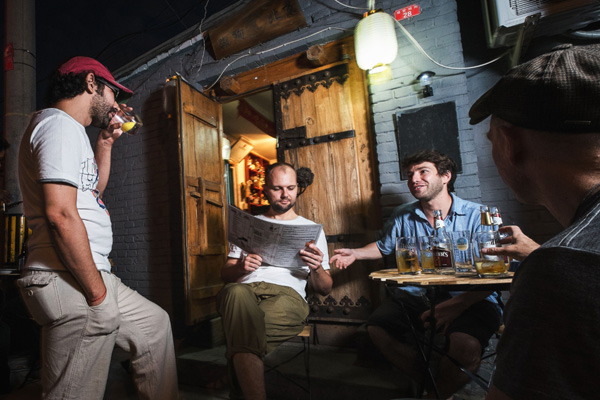 Foreigners chat and drink beer outside a bar in the Xiguan Hutong. Photo / Xinhua
I work full time as a journalist and part time as a "hutong host" for people traveling from all around the world. I am equally proud of that as my job.
My two roommates and I live in a nice loft in Wudaoying Hutong near Yonghegong Lama Temple, which has been called Beijing's "Brooklyn" by The New York Times. Our neighborhood is the most hipster hutong among them all.
There are more than 700 registered hotels in Beijing, according to the Beijing Tourist Agency, but among these, only a handful offer guests an experience of old Beijing.
As we have a spare studio on the second floor, we decided to open that to visitors for short stays.
Airbnb, a website for people to rent out lodging, helps us to turn our living space into a hub connected to the world, with a streak of the local Beijing flavor.
Since we started our hosting service in August, we have had more than 10 guests from four continents. We have a map on the wall marking their countries and they leave notes next to it.
So far it has been an amazing experience for us and for our guests.
I love living here. On a typical Sunday morning, I go downstairs to get a bowl of tofu nao (soup with really soft soybean curd). Sitting next to the seniors after their exercise, the cleaners and the parents who send children to school, I listen to them talk about their days. I know my breakfast lady quite well. She and her husband moved to Beijing from Shandong province after their only son settled here. They are quite proud of him as he is the only college graduate in their village. To make some extra money for the family, they opened a breakfast shop. The husband stands out of the shop, next to an oil pot to make youtiao (fried dough sticks, a typical Chinese breakfast) and the wife stays inside the shop, making dumplings and tofu nao for customers. They always smile and can always remember what I want to order.
On clear days, I like biking through the alleys all the way to Houhai, where I can see older people swimming in it, as well as young people rowing dragon boats. I used to be a dragon-boat drummer. Now I don't practice it as I can't commit the time, but I always enjoy and miss the team spirit involved in it.
The hustle-and-bustle keeps me alive and gives me the power to connect to the place where generations live and culture passes along. I feel I am part of the city and the history.
I think that is also why the foreign guests love living here, to feel connected.