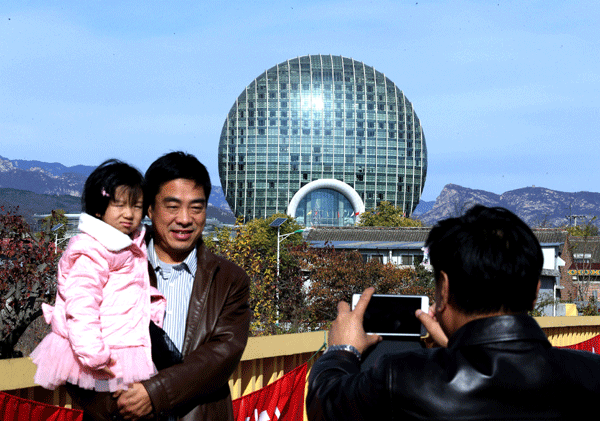 Tourists take a picture against the backdrop of Sunrise East Kempinski Hotel, landmark of the ongoing 2014 APEC Economic Leaders' Week, and a clear blue sky in Yanqi Lake, Beijing, on Thursday. Authorities beefed up measures to reduce the emission of air pollutants in Beijing and surrounding areas while maintaining blue skies during the APEC meetings.LIN HUI / FOR CHINA DAILY
Pollution might come back to Beijing over the weekend amid stable weather
Companies in Beijing and surrounding regions have stepped up their efforts to reduce the emission of air pollutants to maintain blue skies during the APEC meetings.
"To reduce emissions, we have shut down our spray painters instead of merely reducing their use by 30 percent," said Wu Haishan, deputy Party chief of Beijing Foton Auv Co in the city's Fengtai district, on Thursday.
Like the vehicle company, other companies listed in the capital's limited production group have suspended production, said Zhang Huizhao of the Bureau of Environmental Supervision, part of the Ministry of Environmental Protection.
The city had already announced pollution-restricting moves, including alternating automobile driving days based on odd-even license plate numbers and the suspension of heavy industrial production.
The authorities have conducted inspections regularly to ensure compliance.
To ensure good air quality during the Asia-Pacific Economic Cooperation meetings, a series of emergency restrictions have been implemented since Saturday to control vehicle exhaust and industrial emissions. Dust from construction sites in Beijing and Tianjin, as well as in Hebei, Shandong, Shanxi and Henan provinces and the Inner Mongolia autonomous region, have also been targeted.
All the joint efforts, which will last until Wednesday, are expected to cut emissions by at least 30 percent, based on the reports from the governments in the affected areas.
Cities in northern China, including Beijing, have seen clear skies for several days, with the PM2.5 index often in the "good" zone, below 50.
During the upcoming weekend, windless weather and stable atmospheric conditions may prevent the dispersal of pollutants, adding pressure for tight controls during APEC, the national weather authority said.
Accordingly, many cities have strengthened their efforts to cut emissions, imposing their most stringent emergency response measures recently.
Tianjin and five cities of Hebei province, including the capital city, Shijiazhuang, have halved the number of private vehicles on the road based on license plate numbers since Monday. An additional nine cities from Shandong and Hebei provinces joined the group on Thursday.
To maintain effectiveness, the ministry has sent 16 teams to the six municipalities and provinces since Monday. The teams have exposed some problems in recent days.
Of the 317 companies inspected, 33 that should have reduced or suspended production as required were found working as usual. And 31 more continued to discharge pollutants into the air.
In addition, 55 construction sites of the 103 inspected were found working or leaving dirt mounds uncovered, a report from the ministry said.
To ensure the reduction of air pollutants, inspections by the ministry and local teams will continue, the ministry said.