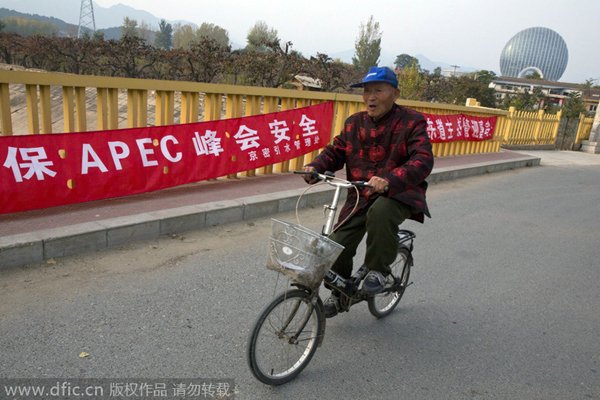 In this photo taken on Oct 29, 2014, an elderly Chinese man cycles past a banner with the words "Ensure APEC meeting's safety." [Photo/IC]
The Beijing municipal authorities can legally take effective measures that cover social order, communications, environmental protection and other related areas within a reasonable period of time to ensure the smooth running of major events held by the state, the Beijing Times reported a regulation released by the government on Wednesday as stating.
These measures can be implemented during the events and a few days before or after them, in line with host requirements. The key principle is that the measures must be necessary, sensible, workable and effective.
Beijing restricted cars based on an odd-and-even-number rule, allowing the vehicles to be driven on alternating days from Nov 3 to 12 to reduce air pollution for the ongoing APEC meetings in Beijing. The move is also expected to ease traffic congestion, with a 35 percent drop projected in the number of private vehicles on the roads. Motorists who flout the rules can be fined 100 yuan.
The use of up to 70 percent of the vehicles under government agencies and State-owned enterprises has also been restricted as part of the measures.
Enforcement agencies are expected to strictly follow the standards set without alterations or extensions.
Individuals and organizations which fail to adopt the measures will be dealt with in line with the corresponding laws and regulations.