China's national civil aviation authority said the country will need to train about half a million civilian pilots by 2035, giving hope to wannabe fliers chasing dreams of landing lucrative jobs at new air service operators.
The aviation boom comes as China - seeking to boost its transportation infrastructure - begins next year to allow private planes to fly below 1,000 meters without military approval. Commercial airlines won't be affected, but more than 200 new companies have applied for general-aviation operating licenses, while China's high-rollers are also eager for permits to fly in their own planes.
The civil aviation authority's training unit can only handle up to 100 students a year. With the rest of China's 12 or so existing pilot schools bursting at the seams, foreign players are joining local firms in laying the groundwork for new courses that can run to hundreds of thousands of dollars per trainee.
"The first batch of students we enrolled in 2010 were mostly business owners interested in getting a private license," said Sun Fengwei, deputy chief of the Civil Aviation Administration of China's pilot school. "But now more and more young people also want to learn flying so that they can get a job at general-aviation companies."
Zong Rui, a 28-year-old former soldier in the People's Liberation Army from Shandong province who is attending a pilot school in Tianjin, an hour's drive from Beijing, is optimistic.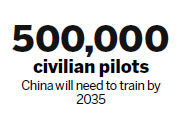 "The salary is good for a general-aviation pilot," said Zong, preparing for a training session. Even without a job lined up, Zong is certain the money he borrowed to learn how to fly will pay off: "I can easily pay back the 500,000 yuan ($81,700) tuition in two years, once I get a job."
Open skies
By the end of the year, industry executives expect Beijing to issue detailed guidelines on how it will implement plans unveiled in 2010 to open up airspace below 1,000 meters in 2015, expanding the open skies to airspace below 3,000 meters by 2020.
Global makers of small planes, such as Cessna Aircraft, Pilatus Aircraft and Piaggio Aero Industries, have long had their sights on China's burgeoning GA market.
Now they're being joined by air service providers like Tasmania-based Rotor-Lift Aviation, which has helped train pilots in Hong Kong, Malaysia and other Asian countries.
"I came here for opportunities," said Peter McKenzie, Rotor-Lift's training manager. McKenzie has been in talks to establish a training program for Chinese GA pilots in Australia as well as a joint venture.
Taking training outside China is an option also favored by China's biggest aircraft maker, Aviation Industry Corp of China, which has invested in a flying school in South Africa.
Other foreign players include Spain's Indra Sistemas, the first foreign company certified by the aviation administration to implement a full flight simulator for helicopters in China. Canada's CAE Inc also operates a partly owned flight training center in South China.
While the majority of new trainee pilots set their sights on a license as a means to a career, for some among China's more-affluent classes the new rules are a ticket to a flamboyant new hobby.
For Li Zheng, the 33-year-old owner of an advertising company, driving a fancy car isn't so exciting anymore: He has set his sights on flying his own plane.
"I love sports, especially those with a challenge, like flying," said Li, a former hot air balloon racer, speaking just before a training flight. Li's ultimate goal is to buy an airplane to fly with his wife, who recently joined Abu Dhabi-based Etihad Airways as a flight attendant.