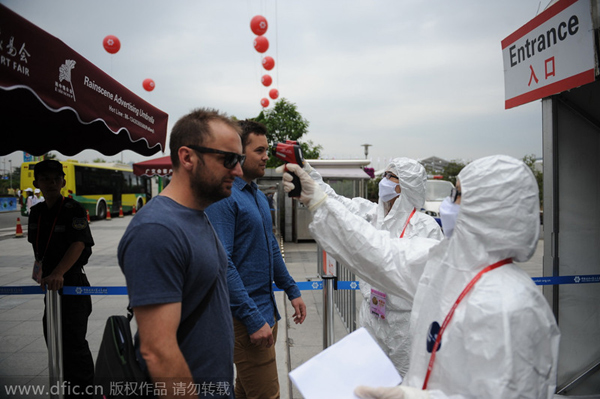 Medical workers test temperatures of visitors to the China Export and Import Fair in Guangzhou, Guangdong province, Oct 23, 2014. [Photo/IC]
Guangdong, a front-line region in preventing Ebola from spreading in the Chinese mainland, is going all out to stop an outbreak of the deadly virus in the southern province.
According to the Guangdong Provincial Center for Disease Control and Prevention, the province, which has a large number of people from African nations, has expanded the testing of temperatures of people arriving from Ebola-hit regions at major entry ports.
Those who have a fever will undergo further blood tests, the center said on its website.
So far, no Ebola or suspected cases have been detected in Guangdong, which has conducted tests on about 50 people coming from Ebola-hit regions. All the test results were negative, the center said.
Meanwhile, special equipment has been set up in all entrances for the ongoing China Export and Import Fair to help test the temperature of visitors. The fair, held in Guangzhou in spring and fall, usually attracts a large number of participants from around the world, including a big percentage from Africa.
"Guangdong, which annually attracts a large number of businesspeople and tourists from Africa, will never relax its vigilance in preventing Ebola," according to Lin Shaochun, deputy governor of Guangdong province.
There are as many as 190 flights between Guangdong and Africa every month, with a passenger flow of more than 45,000 people. More than 60 percent of the passengers arriving on the mainland from Ebola-hit regions arrive in Guangdong.
Lin urged provincial departments to take precautions to prevent any outbreak of the Ebola virus in the province. Lin is also director of the special task force established in August to prevent the spread of Ebola in Guangdong.
In recent months, Guangdong Governor Zhu Xiaodan and Lin have led working groups to major exit and entry ports, railway stations, bus terminals and hospitals to inspect the anti-Ebola work.
Meanwhile, Guangdong has designated 27 hospitals to help handle possible Ebola cases, the Guangdong Center for Disease Control and Prevention said.
He Jianfeng, the center's chief expert, urged locals not to worry too much about the outbreak of the Ebola virus in the province because concrete and effective precautionary measures have been introduced.
A doctor from Guangzhou No. 8 People's Hospital, one of the designated hospitals in Guangzhou, said his hospital is ready to tackle the virus.
zhengcaixiong@chinadaily.com.cn