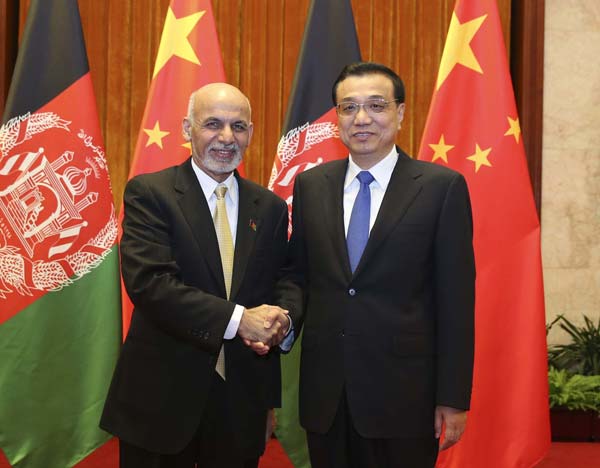 Chinese Premier Li Keqiang meets with visiting Afghan president Ashraf Ghani Ahmadzai at the Great Hall of the People in Beijing, Oct 29, 2014.[Photo/Xinhua]
Premier Li Keqiang said China is willing to take part in infrastructure construction in Afghanistan to promote the stability and prosperity of the war-torn region during a meeting with visiting Afghan president Ashraf Ghani Ahmadzai on Wednesday.
Li said China is willing to take part in the construction of rail lines, highways, water conservancies, power facilities in Afghanistan. He said China supports Afghanistan's reconciliation process, because a stable and secure neighboring environment is an integral part to achieve national prosperity.
Ghani, on a visit to China to attend the Fourth Foreign Ministerial Conference of the Istanbul Process on Afghanistan on Friday, said Afghanistan will provide security and convenience to Chinese enterprises in the country. The conference on Friday will cover regional security and economic and political issues.
He said improving relations with China is a key diplomatic principle in Afghanistan that has been accepted by different groups in the country and that Kabul is ready to support Beijing's proposal to build a trans-Eurasian "silk road economic belt".
Beijing vowed to strengthen its support for reconstruction in Afghanistan, pledging assistance of 2 billion yuan ($327 million) from 2014 to 2017 on Tuesday. It will also train 3,000 professionals in various fields for Kabul.
China has so far invested in more than 30 projects in Afghanistan, and the biggest deal is in agreement to develop a 5-million-ton copper deposit at Mes Aynak, near Kabul. Apart from copper development, the package also includes infrastructure construction in the area such as highways and rail lines.