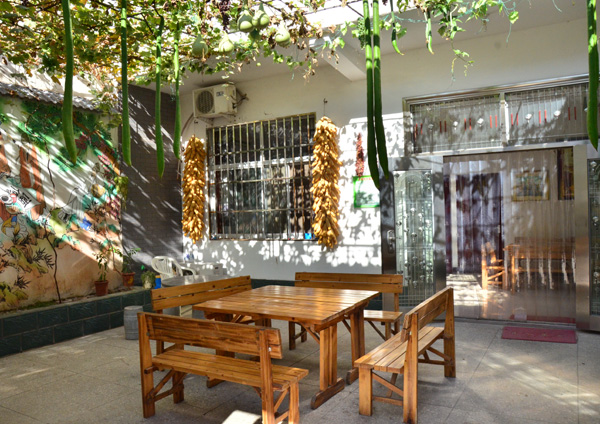 View of an agritainment restaurant in Wuliqiao village of Jiyuan city, Central China's Henan province on Saturday. [Photo by Wang Yu/chinadaily.com.cn]
Agritainment has become an essential part of rural tourism as it offers a window to village culture, an activity that contributes a lot to farmers' economy in Jiyuan city, Henan province.
To increase their income and meet the growing tourism demand, local residents in Wuliqiao village have been concentrating on farm-based tourism operation that provides agriculture-themed entertainment. Almost 96 family farms are currently planning to run agritainment restaurants in the village, a mountainous area in Jiyuan city Henan province, and more than 20 family farms have been selected to run such restaurants.
A farmer who runs an agritainment can earn 80,000 yuan ($13,072.39) a year, more than the average annual income of urban residents. In 2013, per-capita annual income of local residents was 6,055 yuan.
Also, a better life for the farmers is made possible by local efforts to tap into the area's rich tourism resources, such as geographic advantages of the Wangwu Mountain, which forms a natural picturesque landscape and folk culture.
On a map, the 400-kilometer-long Taihang mountain range looks as if it were being hugged by the river near its southern tail, where Mount Wangwu stands. Mount Wangwu is a famous Taoist site attracting almost 200,000 tourists from all over the world every year.
Wuliqiao village is the only way to enter the scenic area of Mount Wangwu. Thus, many visitors prefer to stop in the village to have a rest, which provides ample business opportunities for local residents to develop their agriculture-themed entertainment.
"For me, I prefer to travel in the country and experience the town life in my holiday," said a tourist from Shanxi province while praising the friendly people in the Wuliqiao village.
"I really enjoy the clean atmosphere which is quite hard to get in big cities," the tourist added.
"We have launched a lot of new attractions, such as fruit picking, fishing and family-style meals, to attract tourists. The pollution-free food in our agritainment is also popular with visitors," said Zhou Beijun, secretary of Wuliqiao village Party committee.
"We have already established a large car park that can accommodate 180 vehicles in Wuliqiao village," he added.
Locals are encouraged to get involved with the leisure agriculture business.