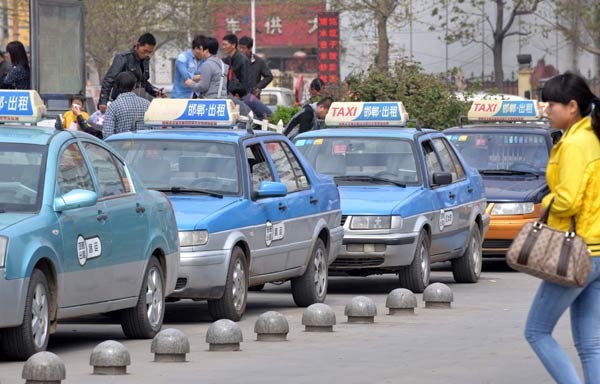 Taxis wait for customers in Handan, Hebei province. Regulations that will hold drivers to higher standards and give passengers the right to refuse payment go into effect on Jan 1.  Hao Qunying / For China Daily
A new taxi industry regulation will allow passengers to refuse to pay fares if drivers break certain rules.
According to the regulation, which comes into effect on Jan 1, if drivers don't use meters properly, don't get passengers to destinations on time, don't give receipts or don't accept payment by subway cards, passengers can refuse to pay the fare.
The regulation also requires drivers to choose the most direct route, and says they cannot refuse passengers' requests, negotiate the price or drop off passengers in the middle of the trip.
Drivers who don't obey the rule may be punished with fines ranging from 50 yuan to 200 yuan ($8 to $32)
In addition, the regulation creates more detailed standards, including rules that drivers cannot smoke or eat food with strong smells.
The regulation encourages cities to develop a taxi appointment service through phone, mobile app or website.
Zhang Jinfang, 28, said that taxi services in Beijing have improved a lot recently, but there are still some problems.
"I always noticed that drivers like to make phone calls when they are driving, or are too focused on the mobile apps that alert them of coming orders from other passengers," said Zhang. "This really distracts the driver's attention and it's not safe."
A driver surnamed Shen in Beijing approved of the regulation, saying some drivers' bad behavior had damaged the industry's image.
"As licensed drivers, we should set stricter standards for ourselves and provide passengers better service. We must give receipts if customers ask, which is a difference from unlicensed cabs," Shen said.
But he said passengers who break appointments should be also punished.
"If I fail to keep an appointment, my company will quickly find and criticize me, and I might be fined. But most of the time, it's the passengers who don't keep an appointment," he said.
"A mutual understanding must be established between passengers and us," he added.
Yu Lingyun, a professor specializing in traffic laws at Tsinghua University, spoke highly of the regulation, saying its enforcement will alleviate the problem of unlicensed taxis in the capital.
There are some problems with smartphone applications, like drivers who don't show up or who want more money, so it's urgent to regulate them, Yu said.
In the United Kingdom, for example, passengers are accustomed to booking taxis, "but in our country it's in the beginning stage", he said.
He suggested taxi companies make a blacklist of passengers who break appointments without good reason.
Contact the writers at caoyin@chinadaily.com.cn and suzhou@chinadaily.com.cn