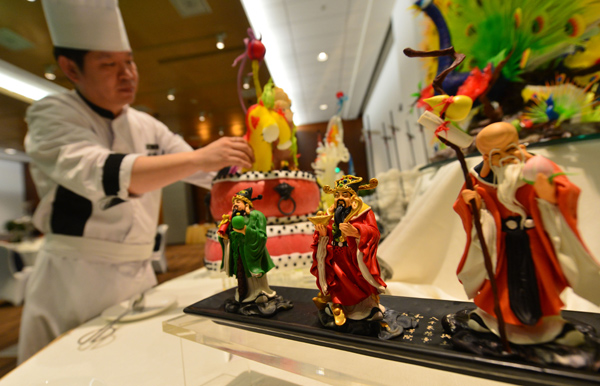 A chef prepares food carvings recently featuring Chinese figures in a rehearsal for the upcoming AsiaPacific Economic Cooperation meeting in Beijing. GUO QIAN / FOR CHINA DAILY
Beijing has adopted a stringent food-security policy during preparations for the upcoming Asia-Pacific Economic Cooperation meeting by regulating raw food-material providers and suspending sales of healthcare products at some of the reception hotels.
Halal food is an important part in the security supervision.
To ensure the quality of food prepared for the summit, about 20 companies, including Quanjude Roast Duck Restaurant, were named the providers of raw ingredients. All 34 hotels serving the APEC Economic Leaders' Meeting have to buy food from those companies.
"If the providers cannot meet the demand, hotels can purchase raw materials from their own sources, but they have to report to us the details," said Zhang Fengping, deputy director of the Beijing Food and Drug Administration.
"Hotels also need to check the quality of beauty and hair supplies for guests," Zhang added. "During the APEC meeting, all sales of healthcare products in hotels with important guests have to be suspended."
At the same time, the administration must supervise menus, recipes and ingredients.
Fan Bao, deputy director at the Beijing Ethnic Affairs Commission, said it still has a lot to improve in terms of halal food preparation.
"The understanding of halal food is still limited. Many people think that everything that is not related to pork is called halal food," Fan said. "I have to say the standard of Beijing's halal food is way lower than the international standard."
Fan said there are problems in the ingredients, wine, and menu translations.
The Beijing Municipal Commission of Commerce is also working on the quality control of 11 types of food, including beef, mutton, grain and oil.
Fan Zhihong, a professor at China Agricultural University who has followed food security issues for a long time, said the process of preparing halal food has a strict standard that even includes the religion of the butcher.
"Organizers and food providers should pay much more attention to this," she said.
Fan said the suspension of healthcare product sales in certain hotels and strict control over food doesn't reflect problems with either healthcare products or Beijing's food.
"Food security is a sensitive issue that relates to many people," she said. "But the situation of Beijing's food is way better than you may think. It is very difficult for you to buy something from the supermarket that doesn't meet national standards."
"As for healthcare products, I think the Beijing government is more concerned about certain ingredients such as ginseng, which may cause an adverse reaction."