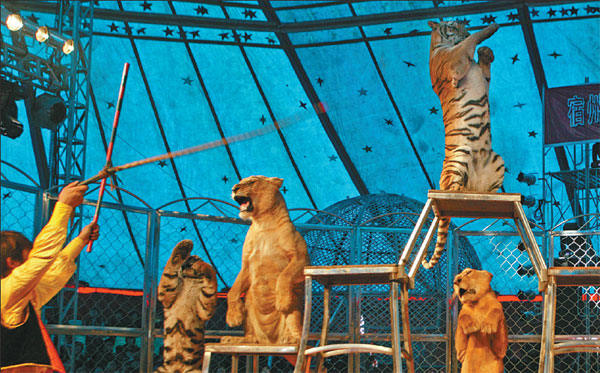 Tigers and lions at an international circus festival in Suzhou, Anhui province, in 2010 before the Ministry of Housing and Urban-Rural Development banned the participation of animals in performances in State-owned zoos in China. Wu Zhengrun / Xinhua

A ban on performances by circus animals at China's State-owned zoos has won praise from activists, but could spell ruin for a traditional industry, report Zhu Lixin in Suzhou, Anhui and Wang Qian in Beijing.
Until three years ago, Li Chengjian regularly arranged circus performances in zoos during China's annual weeklong National Day Holiday. Those glory days are long gone, though.
"Everything has been changed by the government's ruling that animal circuses must stop performing at zoos," said the 36-year-old owner of the Suzhou Circus Family Animal Performance Group, who is the third generation of a well-known circus family from Yongqiao, Suzhou city, in East China's Anhui province.
In October 2010, in a guideline aimed at tightening the management of State-owned zoos, the Ministry of Housing and Urban-Rural Development ordered zoo managers not to host circus performances featuring animals.
Li's circus had performed at Nanjing Hongshan Forest Zoo for 14 consecutive years, but in 2011 his contract was cancelled. Other zoos quickly followed suit, leaving Li and his troupe with little work.
Before the ban, animal circuses performed regularly at zoos across China, but in 2010 an investigation by the State Forestry Administration named 53 zoos where animals were suffering severely because of abuse and cruel circus performances.
'An encouraging sign'
Liu Huili, an animal rights supporter with Green Beagle, a Beijing-based NGO, said the performances, including animals walking on wires, jumping through hoops of fire, performing handstands, and boxing, were widespread in the country's zoos and parks, and the practices seriously damaged the animals' physical and psychological health.
"The ban is an encouraging sign for animal protection," she said.
In a previous interview with China Daily, Hua Ning, campaign manager for the Beijing office of the International Fund for Animal Welfare, said the restrictions on animal performances are positive moves in the campaign to protect animal rights.
"In the long run, the government should guide zoos back to educating people about the beauty of nature and informing the public about how to better protect the Earth's magnificent creatures," she said.
While the ban has won praise from animal rights activists, many circus operators have protested that their work doesn't equate to animal abuse.