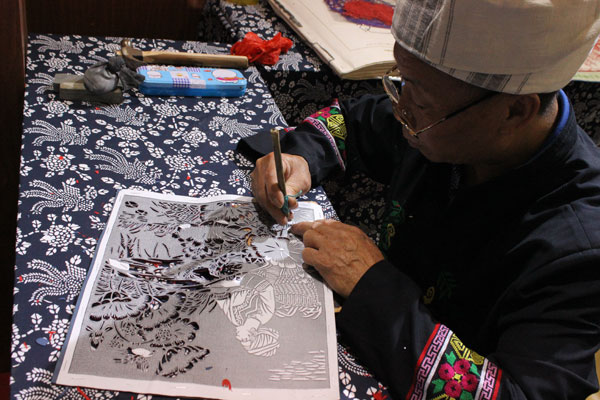 A man of Tujia ethnic group performs paper-carving at the third China Intangible Cultural Heritage Exhibition in Jinan, the capital city of East China's Shandong province, Oct 10, 2014. [Photo by Wang Kaihao/China Daily]
A national cultural heritage exhibition lifted the curtains in Jinan, capital of Shandong province on Oct 10.
The third exhibition of its type is a four-day event that displays about 700 items deemed to be of intangible cultural heritage and provides a major platform to stress the importance of protection and preservation.
A range of activities, including academic seminars, stage performances, and trade fairs, are also on offer.
"Due to this heritage, our cities have become what they look now," said Xu Xianghong, head of the Shandong provincial cultural department, echoing the slogan of the exhibition: intangible cultural heritage is our lifestyle.
"During urbanization much of the cultural heritage, detailing people's every day lives, was endangered. The exhibition is to show how we can create an atmosphere to balance the original characteristics with the aesthetics of a younger generation."
He also highlighted the importance of establishing of sustainable training program to attract younger people to appreciate traditional ways and skills.
China has established 18 nation-level protective zones for intangible cultural heritage, mainly in provinces with multiple ethnic groups including Yunnan, Hunan, and Qinghai, as examples to guide the work in the rest of the country.
The biennial exhibition was first held in 2010, and a permanent venue for the event in the future is being constructed in Jinan.