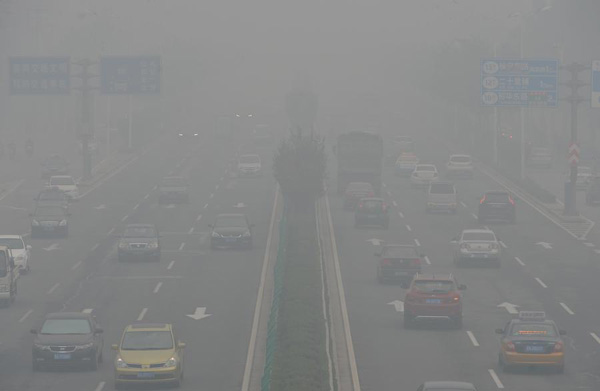 Vehicles run on a road in Shijiazhuang, capital city of North China's Hebei province, amid heavy smog on Thursday. [Photo/Xinhua] 
BEIJING - The National Meteorological Center (NMC) will extend a yellow alert on Thursday for severe smog and air pollution shrouding China's northern regions on Wednesday.
Widespread smog has affected a large part of north China as well as northwest China's Shaanxi Province since Wednesday, with air conditions in northern Chinese cities including Beijing and Tianjin severely downgraded.
The agency also forecast the central and eastern part of Beijing city and the west part of Hebei Province will be challenged with extremely heavy smog in the coming hours till Friday morning.
However, it said that a strong cold front which now affects Xinjiang in northwest China will further march eastward over the next three days, which is likely to disperse the smog in the north.  
The choking smog reduced visibility to less than 1,000 meters in Beijing on Thursday morning, pushing the municipal traffic control commission to close several highways linking Beijing with northern and southern provinces.
The bout of smog has been reported to be the worst in north China since July. It was monitored to have started from Henan Province since Tuesday, when the provincial meteorological observatory issued a yellow smog alert.
The Henan provincial environmental protection bureau said pollution discharged from the 7,893 straw burning sites it has monitored in the past week has accumulated in the air, which lacked flow.
Farmers in north China region traditionally burn straw after autumn harvest, and plough to dig the ashes into earth, which they believe fertilizes farmland.
People in Beijing, however, are not quite convinced burning straw is the chief cause of the smog. Burning straw was far more prevalent 20 years ago in north China's rural areas at a time when smog was rarely heard of in Beijing.
A pollution law which will see large northern cities coordinate enforcement efforts has been promised by governments of Beijing, Tianjin and Hebei. Many believe this will be a key solution to treat the smog problem.
China has a four-tier color-coded weather warning system, with red representing the most severe warning, followed by orange, yellow and blue.