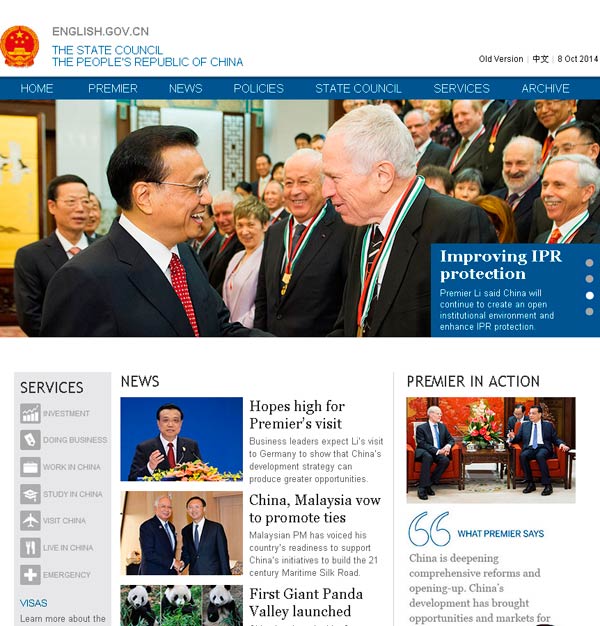 The updated English-language website of the central government, supported by China Daily, goes online on Wednesday.
China is stepping up its global connectivity drive, with the central government launching an updated English-language website with the assistance of China Daily on Wednesday.
Gao Anming, deputy editor-in-chief of China Daily, said during the ceremony that the newspaper group will make the website the first choice for English-language readers to access the Chinese government's policies and to gain an understanding of state leaders and the development of China. It will do so by using a highly professional team and advanced technology.
The new website has six major sections: Premier, News, Policies, State Council, Services and Archive.
Yang Fuqing, deputy director of the CCTV News Channel, said, "It opens another window to the outside world for the Chinese government, establishes a new-media platform for foreigners to understand China, and will further improve overall international communication for China."
Niva Whyman, a British editor at China Daily who joined the government website team from the start, said, "We have done our utmost to build this dynamic and state-of-the-art site and we hope that our efforts will reflect the goals of the State Council."
Shi Anbin, a journalism professor at Tsinghua University who took part in the feasibility discussions before the website launched, said China Daily is the perfect choice for the task, partly because it has earned a wider audience and has more experience in overseas social media expansion than its competitors.
"Reporting stories and putting forward people's points of view ⋯ are the international codes of communication, and the team behind the website grasped this well," Shi said.
Shi also suggested that the web team build a mass-data platform for international users to search for authoritative statistics and reports. He recommended that the team strive harder to show how the government works for people ages 18 to 40.
"The most crucial job for a website is to engage the 'millennium generation'," he said.
chenmengwei@chinadaily.com.cn