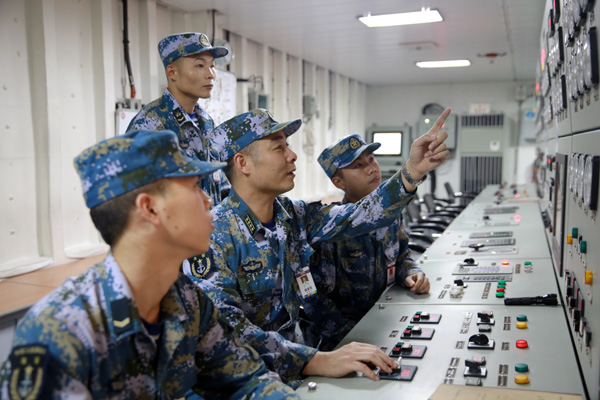 Senior Captain Lou Fuqiang (center), head of electric and mechanical facilities for Liaoning, the PLA navy's only aircraft carrier, checks the ship's equipment with crew members.  Han Feng / For China Daily
For Senior Captain Lou Fuqiang, sweat and grease have become his personal decoration as he comes to terms with operating the People's Liberation Army navy's largest ship, the aircraft carrier Liaoning.
"When my team was formed, none of us had experience and knowledge of how to operate such a large ship, which is the biggest vessel in the navy," said Lou, 42, head of electric and mechanical facilities for China's first aircraft carrier. "So we had no other choice but to explore by ourselves."
Exploring the craft of operating and maintaining such a large ship, which was commissioned to the PLA navy in September 2012, means the engineering chief must lead his crew members in familiarizing themselves with the equipment.
Lou heads the sections responsible for power, propulsion and damage control on the carrier, and he believes in leading by example.
Wang Lei, an electric power operator in Lou's team, said,"I have served for nearly 10 years in the navy and had never seen any other senior officer as high as a senior captain, like my boss, who would creep in the narrow wire channels to check equipment." Wang said he often encountered Lou in equipment cabins enduring scorching temperatures, earsplitting noise and bad odors.
Gao Peng, a sergeant major from the propulsion squadron, said Lou always takes the lead in checking the less-than-pleasant equipment cabins.
"Lou is very strong and tall, while many cabins are crammed with tubes and instruments, so he has to hunch in those compartments and his uniform becomes stained with grease," he said.
"Equipment is like children to him," Gao added. "Each time my boss returned from vacation, the first thing he would do after boarding the ship is to examine equipment rather than have a dinner or take a shower."
Having such a leader means you can never slack off and must try your best to meet Lou's stringent requirements, said Gao.
Responding to the compliments of his crew, Lou said there was no aircraft carrier in the PLA navy before the Liaoning, and the ship has been given high expectations by thenation. He has to ensure that sailors are well-trained and that they can become "backbones" for future aircraft carriers.
For his part, Lou collected and read more than 100 books on foreign militaries' aircraft carriers as well as equipment manuals. He took part in the installation of some key components of the Liaoning. The senior captain also led the establishment of a comprehensive emergency-response system that covers 26 scenarios.
Lou and his men garnered more than 1 million pieces of technical information when they participated in more than 10 test voyages during the past three years. Under his guidance, a great number of instrument malfunctions were found and resolved, said Captain Wang Zesen, political commissar of the ship's electric and mechanical facilities division.
After the carrier returned to Dalian in April, where it underwent a refit before joining the PLA navy, Lou contributed numerous improvement suggestions that have enabled engineers to find problems they had overlooked and fix them in a timely manner, Wang said.
The captain said in addition to diligence, Lou has another remarkable personal trait: perseverance.
"During one of the trial runs before the carrier entered active service, Lou argued that the ship should sail at high speed to test the engines' reliability, but engineers from the shipyard refused as they didn't want to risk possible damage," Wang recalled. "But Lou insisted that the test must be done and managed to persuade the technicians to do so, gaining a valuable opportunity for his operators to test the engines' capability."
Due to his tremendous contributions to the navy, Lou was conferred a first-class military service citation by President Xi Jinping, who is chairman of the Central Military Commission, in August 2013, the first for the aircraft carrier unit.
Talking about the honor, Lou said: "I clearly know that the honor was not given to me but to all members of my section, because it is they who are toiling and sweating to build a strong navy for our country."
zhaolei@chinadaily.com.cn