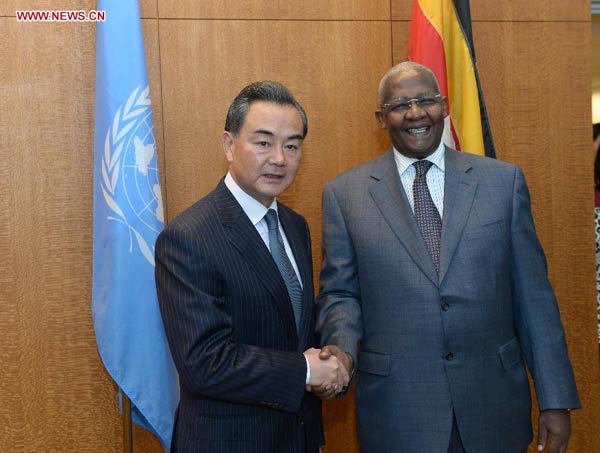 Chinese Foreign Minister Wang Yi (L) meets with Sam Kahamba Kutesa, president of the 69th session of the UN General Assembly, at the UN headquarters in New York, on Sept 25, 2014. [Photo/Xinhua]
UNITED NATIONS - Chinese Foreign Minister Wang Yi on Friday said China firmly supports UN peacekeeping operations and has always played an active part in the mission.
Speaking at a high-level meeting on UN Peacekeeping, Wang pointed out that China, a developing country as it is, is now the sixth largest contributor of UN peacekeeping funding among all member states, and the largest among developing countries.
"China is also the largest contributor of peacekeepers among the five permanent members of the Security Council. It has sent over 25,000 peacekeepers to UN peacekeeping missions," he said. " More than 2,100 Chinese peacekeepers are on their posts safeguarding peace in conflict zones."
Wang highlighted that in the future, China will "give continued, strong support to UN peacekeeping operations and will expand its involvement."
China will send a 700-strong infantry battalion to the UN Mission in South Sudan. This will be the first Chinese infantry battalion to participate in a peacekeeping mission.
Meanwhile, China is considering sending helicopters to the UN Peacekeeping Operation and ready to send more civilian police personnel, including forensic experts and criminal detectives, to peacekeeping operations, he added.
"China will continue to support, to the extent of its ability, efforts to strengthen peacekeeping capacity building of African countries, including the establishment of African Capacity for Immediate Response to Crises," he said, adding that China now operates a Peacekeeping Center with the Ministry of National Defense and a China Peacekeeping Police Training Center, and looks forward to hosting more training activities in these two centers.
"Peacekeeping is the unchanged commitment of China and the mission that China keeps fighting for," Wang stressed. "China's development leads to further growth of the force for peace."
The Chinese senior official said that a prosperous and strong China will make more active and important contribution to world peace.
"We could well foresee that more and more Chinese troops will put on the sacred Blue Helmet and discharge their mission to bring the hope of peace to places in the world where it is wanted and needed," he said.