China is on track to exceed its 2014 target for cutting water pollution, the government announced on Wednesday, amid reports that it plans a $326 billion action plan to clean up its rivers and lakes.
A lack of environmental oversight during decades of economic growth has caused a dire water crisis in China, as toxic waste from factories has polluted 70 percent of rivers and lakes and over half of the groundwater.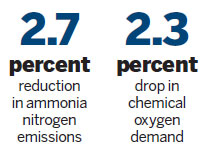 But in the first six months of this year, emissions of ammonia nitrogen and chemical oxygen demand (a measure of organic pollutants in water) fell by 2.7 and 2.3 percent, the Ministry of Environmental Protection announced on Wednesday.
The overall target for 2014 is a 2 percent cut.
While the rate of emission cuts is modest, experts expect steeper reductions as recently adopted standards take effect.
"With more stringent wastewater discharge standards in some sectors, we should expect to see further reduction ... in the future," said Debra Tan, director of Hong Kong-based think-tank China Water Risk.
But the new rules might cause problems from some big-polluting sectors already battling a slowing economy.
"For the textiles sector, the new standard will come into effect in 2015 and since there is no cheap way to clean up, smaller factories may face difficulties in complying with the new regulations," she said.
The data came as the State-owned China Securities Journal reported that the ministry is readying a 2 trillion yuan ($326 billion) plan to clean up polluted water, including wastewater deemed so polluted it is not even fit for industrial use.
The ministry was not immediately available for comment.
Some regions in China, especially the north, are naturally short of water, and with the added stress of widespread pollution, experts say, food production and energy generation could be threatened unless the government takes action.
China has already launched a $63 billion project to transfer water from the water-rich southern and central regions to Beijing and other areas short of water.