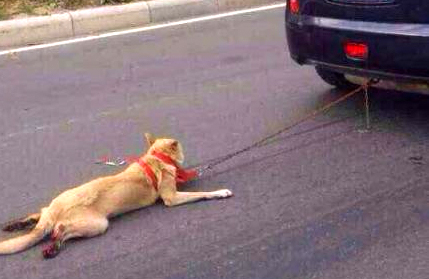 This photo shows the dog chained to the back of a car and being dragged along a road. Its hind legs seem to be bleeding. Photo from Sina Weibo on Saturday. [Photo/ weibo.com/p/1005052057827807]

Pictures and videos of a dog tied to the rear of a car being dragged along a road to near death have prompted an outcry on Chinese social media, and a vehement manhunt for the driver by Web users has resulted in his confession and apology on local television.

The images and videos were first uploaded by witnesses to Sina Weibo, a popular microblogging site, on Saturday and quickly went viral. They showed a dog tied by a chain to the back of a car on a busy road in Shantou, South China's Guangdong province. Unable to keep pace with the car, the dog is being dragged behind it, and its hind legs appear to be bleeding.
Witness accounts said the dog had severe injuries to all limbs but was still alive after the dragging ended. The driver, identified only by his surname Zheng, said he threw the dog into roadside bushes after stopping the car.
The incident sparked a manhunt for the driver, and the car plate number clearly seen in the pictures facilitated the process. Soon the man's name, address and telephone number were shared on Sina Weibo.
The driver appeared on a Shantou Television news program on Monday admitting responsibility for the incident.
He said the dog is a watchdog at his factory, and that he has always wanted to get rid of the animal because it kept biting people, but could not bring himself to kill it with his own hands. 

"I couldn't see the dog in my rear-view mirror so I wasn't aware that it was bleeding badly," Zheng said when making a public apology.

He added that he had only received primary school education, so he had not expected his behavior would trigger such public anger and disgust.
"I apologize for my actions and hope Sina Weibo users would not to reveal or share any more of my personal information," said the man.