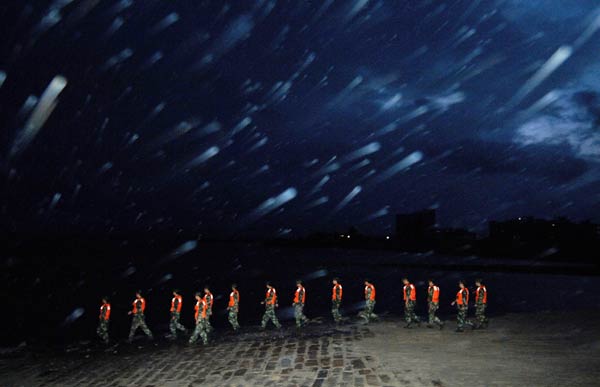 Soldiers from Fuzhou border detachment go on patrol by the seaside in Fuqing city, East China's Fujian province, Sept 20, 2014. Fujian's Flood Control and Drought Relief Office launched Ⅲ-level emergency response to handle the 16th typhoon Fung-Wong this year. The weather station issued an orange warning at 16: 52 on Saturday. China has a four-tier color-coded warning system for severe weather, with red being the most serious, followed by orange, yellow and blue.[Photo/Xinhua]
TAIPEI -- Taiwan's meteorology authority on Saturday warned more regions to brace for tropical storm Fung-Wong, which is approaching the island packing wind as strong as 119 km per hour.
As of 10:15 p.m., Fung-Wong was centered 150 km south of Taiwan's southernmost tip, tracking north-northeast-northward at a faster speed of 22 km per hour, the island's weather bureau said.
The bureau urged almost all regions to be on high alert for the storm, which is likely to bring gale and heavy rainfalls.
Torrential rain is expected in southeastern, southern, and eastern parts of Taiwan, as well as the mountainous regions in northeastern and north-central parts of the island, the bureau forecast.
The bureau also warned of high coastal waves and risks of landslide and flood, cautioning the public not to travel to beachside, rivers and mountains.
A number of municipal areas including Kaohsiung, Pingtung, Taitung, Hualien and Taichung announced closures of schools and offices on Sunday, according to the website of the island's administrative authority.